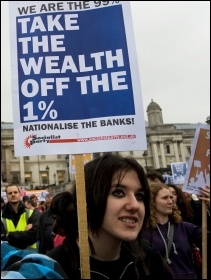 Jarrow March for Jobs rally in Trafalgar Square, photo Paul Mattsson (Click to enlarge: opens in new window)
Eight billionaires own as much as half humanity: take the wealth off the 1%!
Corinthia Ward, Birmingham Socialist Party
The gap between the richest and poorest in the world is growing – and is even worse than originally feared, according to a report by poverty charity Oxfam released today.
Eight people – yes eight – own as much wealth as the poorest 50% of the world population. That's 3.7 billion human beings. New data regarding distribution of global wealth, particularly in India and China, has provided this shocking statistic.
Last year Oxfam calculated that 62 billionaires owned as much as the world's poorest half. However, the new information shows it should have been just nine billionaires. A figure which, one year later, has gone down again.
Driven-down wages, casualised jobs, the 'gig economy' and part-time employment are just a few examples of how extra profit is made off us. One in five men in the UK work part-time for low hourly rates – 20 years ago it was one in twenty, according to the Institute for Fiscal Studies.
Additionally, the government recently disclosed that 687 employers failed to pay their staff the national minimum wage, for which they have been fined collectively around £1.4 million. The accumulated back pay for the workers is a whopping £3.5 million.
All this helps put things into perspective at the time of the annual congregation for the World Economic Forum in Davos, Switzerland. The Davos meeting is where the capitalist elite discusses how to defend the capitalist system and further push profits.
London's Blairite mayor Sadiq Khan is going to hobnob, and deliver a speech on London and Brexit. "London is open" will be his theme. When said to a gang of billionaires, this only means 'London is open for the worker to be exploited'.
It is the workers who make the wealth, and the big bosses who steal it: take the wealth back off the 1%. Nationalise the top corporations, and plan production democratically to end the obscenity of poverty forever.
---
This version of this article was first posted on the Socialist Party website on 16 January 2017 and may vary slightly from the version subsequently printed in The Socialist.