Link to this page: https://www.socialistparty.org.uk/issue/945/25289
From The Socialist newspaper, 19 April 2017
Mood for a fightback at education conferences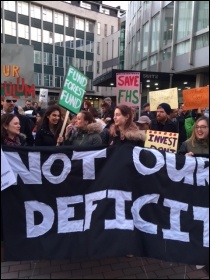 Forest Hill school picket line 21 March photo Lewisham Socialist Party, photo Lewisham Socialist Party (Click to enlarge)
Socialist Party NUT conference delegates
The main theme at the Easter conferences of the education unions NUT, ATL and NASUWT is one of a fightback taking place.
The NUT has backed using an existing strike ballot to take action over funding cuts. Delegates from Lewisham, south London, where strike action has already taken place at Forest Hill School, moved the motion which identified areas where there can be action. In London around half a dozen different boroughs have seen action but this needs to be coordinated. As Socialist Party member James Kerr said in the debate: "We need a strategy that can win on cuts."
Lewisham delegates held a protest at the conference in Cardiff against the use of 'private finance initiatives' in education, which have contributed to cuts.
NASUWT has also threatened action over workload, and the ATL has explained the need for action at its conference.
Socialist Party members, through the Local Associations for National Action Campaign, also took part in other debates at NUT conference, including defeating an amendment by the leadership which would have watered down a motion committing the NUT to boycott all Sats testing in schools. However the motion itself was also defeated, so the strategy is now to have an internal indicative ballot on the Sats in the Autumn term. A motion was passed calling on the NUT to demand a national contract for teachers.
General Secretary Kevin Courtney gave his speech an hour after the announcement of the upcoming general election and placed all of the key campaigns in the context of making an impact on that election.
There were also big debates on equalities issues. A full report will follow next week.
Donate to the Socialist Party
Finance appeal
The coronavirus crisis has laid bare the class character of society in numerous ways. It is making clear to many that it is the working class that keeps society running, not the CEOs of major corporations.
The results of austerity have been graphically demonstrated as public services strain to cope with the crisis.
The government has now ripped up its 'austerity' mantra and turned to policies that not long ago were denounced as socialist. But after the corona crisis, it will try to make the working class pay for it, by trying to claw back what has been given.
The Socialist Party's material is more vital than ever, so we can continue to report from workers who are fighting for better health and safety measures, against layoffs, for adequate staffing levels, etc.
When the health crisis subsides, we must be ready for the stormy events ahead and the need to arm workers' movements with a socialist programme - one which puts the health and needs of humanity before the profits of a few.
Inevitably, during the crisis we have not been able to sell the Socialist and raise funds in the ways we normally would.
We therefore urgently appeal to all our viewers to donate to our Fighting Fund.
---
In The Socialist 19 April 2017:
---
What we think

Defeat the millionaires' Tory government
---
Socialist Party news and analysis

900 carers quit a day - nationalise social care now

Fight the Sun's bigoted lies

Benefits workers oppose 'rape clause' and two-child limit

Joint struggle can stop tuition fee interest hike

Them & Us
---
Jobstown Not Guilty

Protest is not a crime: back Jobstown Not Guilty
---
Save our NHS

What kind of movement is needed to save our NHS?
---
International socialist news and analysis

Trump escalates geopolitical tensions on Korean peninsula

Turkey: constitutional referendum result a pyrrhic victory for Erdogan

French presidential election: Mélenchon campaign gains momentum

Relaunch of socialistworld.net
---
Workplace news and analysis

CWU conference: fight Royal Mail pension attack

Workers sailing to victory on Woolwich ferry

PCS ballot papers out: vote Democracy Alliance

Weapons workers continue pension strike

Mood for a fightback at education conferences

Picturehouse cinema strike spreads

National Shop Stewards Network conference 2017
---
Socialist readers' comments and reviews

Mass movements, not 'fringe cultures', can win feminist change

Buses and buggies: a driver speaks

The Socialist inbox
---
Trade Unionist and Socialist Coalition

TUSC backs RMT Save Our Guards campaign, while local Labour Party blocks debate

Energetic start to TUSC local election campaigning

Doncaster mayoral election: Socialist Steve campaign diary

TUSC council candidate vows never to go to the 'dark side'!
---
Home | The Socialist 19 April 2017 | Join the Socialist Party
Subscribe | Donate | Audio | PDF | ebook
---