Link to this page: https://www.socialistparty.org.uk/issue/946/25339
From The Socialist newspaper, 26 April 2017
BMW strikers determined to win pensions dispute
On 19 April, workers at BMW's engine plant in Coleshill, Warwickshire, held the first of five separate 24-hour strikes against changes to their pension scheme. Part of the first national strike by BMW workers in the UK, the stoppage was called by Unite the Union after a massive 93% yes vote by 72% of workers.
The company is trying to force through a change from a final salary pension scheme (based on workers' contributions) to a defined benefit scheme (leaving retirement income at the mercy of stock market fluctuations).
This could see the 5,000 workers in the scheme losing up to £160,000 over the course of retirement. The move comes despite BMW making profits of £5.89 billion in the year to March 2017.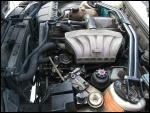 A BMW engine, photo Beemwej (Creative Commons)
There was a determined mood among those on the picket line to fight back, with one striker saying: "You plan out what you think you'll need for your retirement, and keep putting towards your pension pot, and then suddenly the company turns round and says you might not be getting what you thought you would. It's a disgrace".
Reports from inside the plants suggest that some sections were closed entirely, with managers desperately looking for qualified staff to keep production going on others.
Nick Hart, Birmingham Socialist Party
National Shop Steward Network supporters from Bristol and Gloucestershire joined pickets at the BMW's Swindon plant on 19 April. The pensions dispute takes place despite BMW promising to keep the scheme open to existing members when it was closed to new employees four years ago. Pickets were in a determined mood.
Matthew Carey, Bristol South Socialist Party
The strike continues with further action planned on the 3, 16, 18 and 24 May
Donate to the Socialist Party
Coronavirus crisis - Finance appeal
The coronavirus crisis has laid bare the class character of society in numerous ways. It is making clear to many that it is the working class that keeps society running, not the CEOs of major corporations.
The results of austerity have been graphically demonstrated as public services strain to cope with the crisis.
The government has now ripped up its 'austerity' mantra and turned to policies that not long ago were denounced as socialist. But after the corona crisis, it will try to make the working class pay for it, by trying to claw back what has been given.
The Socialist Party's material is more vital than ever, so we can continue to report from workers who are fighting for better health and safety measures, against layoffs, for adequate staffing levels, etc.
Our 'fighting coronavirus workers' charter', outlines a programme to combat the virus and protect workers' living conditions.
When the health crisis subsides, we must be ready for the stormy events ahead and the need to arm workers' movements with a socialist programme - one which puts the health and needs of humanity before the profits of a few.
Inevitably, during the crisis we have not been able to sell the Socialist and raise funds in the ways we normally would.
We therefore urgently appeal to all our viewers to donate to our special coronavirus appeal.
---
In The Socialist 26 April 2017:
---
What we think

A bold socialist campaign could get rid of the Tories
---
Socialist Party news and analysis

40% of GPs plan to quit - reverse all NHS cuts and sell-offs!

Cuts, profit and bureaucracy lead to 50% rise in mental health deaths

200,000 empty homes - 250,000 homeless - end property speculation

Benefit bullies

Refugee rescue

Tory trouble

What we saw
---
May Day

The real origins of May Day
---
International socialist news and analysis

Mélenchon result shows potential for building a mass left force
---
Socialist Party workplace news

Strikes can end nurses' poverty pay

Len McCluskey re-election - a defeat for the right

Usdaw ADM 2017: Left challenge needed to end assault on retail jobs and conditions

PCS Left Unity says get rid of the Tories!

BMW strikers determined to win pensions dispute

Forest Hill School demonstration

Workplace news in brief
---
20 years since Blair's election

How Blairism sank its claws into the Labour Party
---
Socialist Party reports and campaigns

Jobstown trial begins - call on Corbyn to support the defendants!

Health Campaigns Together meets to chart the way forward

Protests in solidarity with LGBT+ people facing persecution in Chechnya

Doncaster TUSC: TUSC's programme for local jobs and Services

Peter Taaffe speaks in Birkenhead

East London tenants fight 40% rent hike
---
Socialist Party comments and reviews

The Socialist inbox
---
May Day greetings
---
Solidarity greetings in the Socialist for International Workers' Day 2017
---
Home | The Socialist 26 April 2017 | Join the Socialist Party
Subscribe | Donate | Audio | PDF | ebook
---