Link to this page: https://www.socialistparty.org.uk/issue/947/25382
From The Socialist newspaper, 3 May 2017
Packed court laughs down cutter Joan Burton's comparison to Marxist James Connolly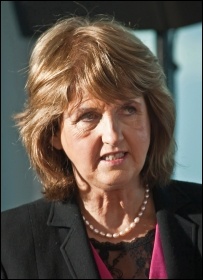 Pro-cuts former Irish Labour leader Joan Burton, photo by William Murphy (Creative Commons) (Click to enlarge)
Neil Cafferky
Day four of the Jobstown protesters' trial began on 2 May in Dublin. Prosecution witness and austerity politician Joan Burton, the former tánaiste (deputy prime minister), took to the stand for a third day, following a torrid two days of cross-examination by the defence.
The prosecution's case hinges on the idea that Joan Burton was in such fear from peaceful protesters that she was forced to take refuge in her ministerial car - and was thereby unlawfully detained, justifying a charge of "false imprisonment."
This poignant scene largely fell apart under defence questioning.
A devastating video taken inside the car shows her assistant referring to protesters as "the fucking dregs." Other scenes show Burton smiling and laughing. The defence produced pictures of her peacefully reading a newspaper.
When it was put to her these were not the actions of someone who appeared to be in danger, Burton replied that the newspaper article was about the insurrectionary Michael Collins.
Collins was military commander of the IRA during the 1919-21 Irish War of Independence. As well as organising guerrilla attacks on the British Army and Royal Irish Constabulary, he ordered targeted assassinations of undercover Special Branch officers.
Burton claims to have wondered: "What would Michael Collins think of this?"
In one particularly surreal exchange, she claimed to stand in the tradition of Marxist revolutionary James Connolly. This outlandish assertion drew gales of laughter from the packed courtroom.
James Connolly was the founder of Ireland's Labour Party, and cofounder of the Irish Transport and General Workers' Union along with James Larkin. He led the socialist wing of the pro-independence forces in the 1916 Easter Rising. The bosses' suppression of the uprising resulted in wide-scale loss of life.
So it appears Joan Burton is happy to claim the mantle of people who used armed insurrection and guerrilla warfare as tactics. However, working class people engaging in a loud, determined - but peaceful - sit-down protest for two-and-a-half hours... that is beyond the pale!
The record of Labour's 2011-16 period in coalition government with Fine Gael, Ireland's biggest right-wing party, was put under the microscope by defence barrister Kerida Naidoo.
Naidoo repeatedly asked Burton if she was aware of the anger generated by the policies of her coalition government in Tallaght, the town near Dublin which includes Jobstown.
Burton claimed only a small number of people were angry about austerity in Tallaght.
Here in Britain, the solidarity campaign with Jobstown continues to grow. The London region of transport union RMT has agreed to back the campaign and donated £250. The region pledged to submit a motion to the RMT's ruling council of executives in order to secure the official backing of the union.
To back the campaign, and for resources including model motions and email updates, contact jobstownnotguiltygb@gmail.com
---
>
Socialist Party members showed solidarity with Jobstown Not Guilty on the May Day march in London. For around-the-world reports of International Workers' Day see socialistworld.net
Why not click here to join the Socialist Party, or click here to donate to the Socialist Party.
---
In The Socialist 3 May 2017:
---
What we think

Race against time for May as Corbyn sets out anti-austerity case
---
Socialist Party news and analysis

Jeremy Corbyn's workers' charter

Corbyn pledges a million homes and landlord regulation

McDonnell promises reversal of Tories' tax cuts for the super-rich

Corbyn pledges end to uni fees and school cuts

Corbyn government would lift NHS pay cap

Support for socialist programme in Labour Liverpool rally
---
Social care in crisis

Beyond the crisis point: saving social care
---
International socialist news and analysis

Packed court laughs down cutter Joan Burton's comparison to Marxist James Connolly

Trump's policies hit a wall
---
Socialist Students

NUS leadership: Blairites supported by establishment
---
Workplace news and analysis

Unison health conference: fury over leadership's feet dragging

Union leadership and Labour right challenged at shop workers' conference

McDonald's forced to back down on zero-hours

PCS elections - vote Democracy Alliance

Transport union protests against driver-only operation outside parliament
---
Socialist readers' comments and reviews

Rare opportunity to see Russian revolution lifted off the page
---
Trade Unionist and Socialist Coalition

Mersey metro-mayor TV debate

'Socialist Steve' takes on the robots

TUSC's south Wales challenge to pro-cuts parties
---
Socialist Party reports and campaigns

Buy your ticket now for the political event of the year: Socialism 2017

Housing association workers' and tenants' alternative awards ceremony

Sheffield mental health campaigner: "austerity kills"
---
Home | The Socialist 3 May 2017 | Join the Socialist Party
Subscribe | Donate | Audio | PDF | ebook
---