Postal workers strike – 29 June
Postal workers' strike gets solid support across the country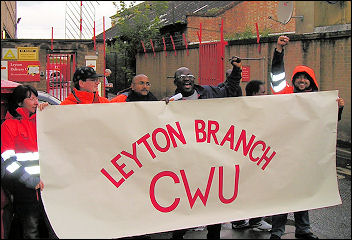 Postal workers on strike in 2007, photo Socialist Party
GLOUCESTERSHIRE'S POSTAL workers gave an almost unanimous reply to Royal Mail's plans to attack pay and conditions and slash 40,000 jobs, when 97% of the 1,400 Communication Workers Union (CWU) members walked out on strike on 29 June. The strike was also against Royal Mail's business plan, which includes the closure of Gloucester mail centre with over 470 jobs under threat.
Royal Mail are offering a below inflation 2.5% pay deal while many postal workers take home only £270 a week after stoppages. Yet, in 2005, Royal Mail made record profits of £537 million – with chief executive Adam Crozier pocketing £2.7 million that year; last year he made £1,038,000.
As CWU member Tim Poole said: "Royal Mail are trying to make their savings off our backs." Darrell Taylor on the Gloucester picket line at Quedgeley delivery depot said: "Under this pay deal we'd lose £80-£90 a week, covering sick leave, other leave and losing night rates. At the moment we get paid for delivering three lots of leaflets, they want us to do six for the same pay. They want to bring in long and short days, say five hours on a light day and ten or eleven on a heavy day."
Andy Petrie (delivery rep at Gloucester south) explained: "The national agreement a few years ago to bring Single Daily Delivery (SDD) was accepted because the carrot was 'job and finish'. Now if you finish early on one job, they want the hours back on another day."
On the Stroud picket line Colin Sayles (CWU sub area delivery rep) summed up the dispute: "It's not just about pay, it's about the destruction of the postal service, because Royal Mail are trying to turn it into a 'purely for profit' business. They want to reduce collections and delivery and concentrate all their efforts on the business customer."
Royal Mail is desperate to run the postal service like a business and so is taking an axe to services and jobs, while holding down pay. The Labour government backs the 'liberalisation' (ie privatisation) of the postal service, which would mean an end to a universal service.
Colin Sayles spoke for many: "I do not pay a political levy because I don't believe the Labour Party supports us."
There was animated discussion about the need for a new workers' party and enthusiasm for the National Shop Stewards Conference on 7 July.
Paul Trehearne, Gloucester Amalgamated Branch Secretary said: "We will be looking at sending a delegation from Gloucester to support the National Shop Stewards Network. If we've got similar minded trade unionists offering support it's a brilliant opportunity to rebuild the trade union and labour movement."
www.savegloucestermailcentre.co.uk
Chris Moore, Gloucestershire Socialist Party
---
Tyneside
AT THE Newcastle City picket line one of the strikers explained that postal workers get an early shift allowance of £13 a week, which is paid because they start work at 5am. However, as part of the 2.5% offer they would start work at 6am and lose the early shift allowance. This would amount to a pay cut after the 2.5% pay increase!
The strikers are well aware that Royal Mail bosses Crozier and Leighton are attempting to mask this attack by saying the changes are about modernisation. One of the strikers commented: "We 'modernised' three years ago, but this meant we had to take on extra streets. People used to get their mail by 9am – they don't now."
Strikers in Gateshead at the Team Valley mail centre reported the strike was 100% solid and they were getting loads of support from passing motorists. One striker commented: "Leighton and Crozier say we have a living wage. I'd like to see them on our wage, getting up early in the morning and delivering the mail."
Speaking of Brown's 'coronation' a postal worker from the Team Valley sorting office commented: "Anyone who thinks Brown is going to be different is deluded."
At Gateshead delivery office one of the strikers who was asked to comment on the strike said he couldn't put it any better than the Socialist Party strike bulletin.
Elaine Brunskill
---
Lincoln
"THIS WON'T be the end of it. We are already preparing for our next day of action," said one worker on the picket line at Lincoln sorting office.
The pickets recognised that Prime Minister Brown will be no different to his predecessor. And with a government hell bent on privatisation and dismantling public services, it is going to take more than a single day of strike action to win this pay dispute.
The strike was around 90% solid in Lincoln. But this didn't stop management trying to suggest that the strike had been weak and that there was no support for industrial action. From my experience it is the government's attacks on our public services that have no support!
This attack on the postal workers is indicative of the way that the Labour government is treating workers in the public sector. These workers should prepare to go on the offensive and take the fight to the government in a united struggle.
The workers picketing in Lincoln have already drawn this conclusion. The question is, will the union leaderships have the bottle to take on Brown?
Marc Glasscoe
---
Tower Hamlets
OVER 30 workers were on the picket line at Burdett Road sorting office, Tower Hamlets. "We're proud that East London had a bigger vote for strike action than anywhere else in the country," said rep Mick Powell.
There was deep anger at Royal Mail's accusation that workers are '25% overpaid and 40% underworked'.
All the workers I spoke to blamed privatisation and made a connection with other public sector workers in similar situations: "This isn't 'modernisation' this is just privatisation".
Plenty of passing drivers beeped support. But the biggest cheer from pickets was when a private contractor leaving the depot pulled out into the road and straight into the back of another van!
Before Socialist Party members had even raised the issue of working class political representation, two pickets said: "We need a new party". Everyone we spoke to agreed that the CWU and other unions should stop giving money to the Labour Party, and nine signed the Campaign for a New Workers' Party declaration.
Naomi Byron
---
Picket lines round up
Barnstable, Devon
"I hope you get what you want" and "good luck" said members of the public to the pickets at Barnstable. There was also support on the picketline from NUT and UNISON activists, as well as a very elderly gentleman called Jim who used to organise over 400 workers in the Agricultural Workers Union.
A local sandwich shop provided two platters of free sandwiches. Retired postmen also brought food.
Those pickets who took the socialist nodded approvingly when they read the front page article.
Postal workers were not too worried that managers working in the sorting office would have much of an impact on the effectiveness of the strike. They were collectively described by one picket as "efficient as a sponge in the Sahara desert"!
Jim Lowe
Reading and Basingstoke
BASINGSTOKE DEPOT had the biggest and most united action in the area. Pickets reported that not one member had crossed the picket line. A Business Link driver at Reading, when greeted by a picket, refused to cross the line into the depot.
Pickets at Basingstoke complained that a postal worker on foot delivers to an average of 500-600 houses in one 3-4 hour round, with no break and no access to public conveniences, with a bag weighing over 20kg.
Some need to work a 55-60 hour week to get decent take home pay (of £350). Another worker commented that, as a family man with three children, he works a 40-hour week for just £270 take home pay.
Nick Kirk and John Gillman
York
CWU MEMBERS from York sorting office began their picket line at 3am in the morning, with many of them staying until 7pm or 8pm at night. I gave out Socialist Party material and our statement in support of the strikers.
I also happened to have some material on the NHS campaign which was a topic of discussion with some of the strikers, especially with the recent announcement of the loss of around 500 jobs at York District Hospital.
I offered to help out on any future action and the strikers took my number and thanked me and the Socialist Party for our solidarity and support.
Leigh Wilks
Brighton
IN BRIGHTON, over 20 postal workers braved the fierce rain to picket the main sorting office. Only two non-union workers went into work out of a total of over 300 workers. The main issues weren't over pay, but the strings attached and the 'modernisation' plans including changes to the delivery times.
The strikers were in favour of more effective action, probably involving strikes on both Friday and Monday.
Michael Bowles, Southdowns Amalgamated Branch Secretary (CWU) said: "Very appreciative of all the support you have all shown us, we feel it was a very successful day."
Peter Knight and Ivan Bonsell
Nottingham
AT THE Huntington Street depot in the city centre the pickets said that they would leave the picket line at 9am as the strike was solid and there was no need to stay any longer.
Remarking on the 'pay freeze' that the top 400 managers were taking, a picket said: "If we were on the money that they were on we would be quite happy to take a freeze in pay".
At Bulwell delivery office, out of 50 workers all bar two managers were out on strike.
Charlie
Chorlton, Manchester
AT THE picket line outside Chorlton post office, PCS (civil service) union members at a nearby workplace presented a list of signatures in support of the strike.
They used the PCS signatures' list as an improvised petition, talking to passers-by about the job losses, the pay demands and the privatisation attempts.
"This is our first strike and we think we have done pretty well for ourselves," said a picket. There was only one manager and one scab working that day.
Christian Bunke
Ipswich
IN IPSWICH only three out of 300 workers went into work and only 48 out of 777 throughout the county (Suffolk).
The negative side of the dispute was that the managers, who are CMA-Amicus members, went on a training course last week so they could drive the vehicles and as a result had all gone in to cover the work of the strikers.
Teresa MacKay
Huddersfield
All 300+ staff at the Huddersfield delivery office came out, with over 25 union members on a picket line from 4.30am – as managers inside attempted to sort and deliver the most important post of the day.
One manager exclaimed: "This had better be the last bloody time you strike 'cos I'm knackered!"