Protests against persecution of trade unionists in Russia and Kazakhstan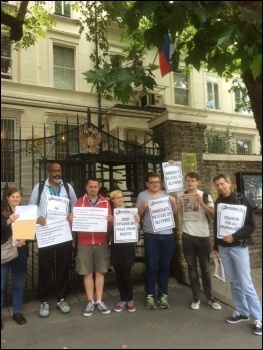 Outside the Russian Embassy near Hyde Park, London, photo SP (Click to enlarge: opens in new window)
On Thursday 10th August Socialist Party members and supporters in London handed in protest letters to the Russian and Kazakhstan embassies to highlight the cases of two activists who are victims of state repression.
The letters, shown below, briefly outline why international solidarity is urgently needed. For more info go to the CWI website.
---
To the Russian ambassador
Re Khudoverdi Nurmatov
We were shocked to hear of the detention in Moscow and subsequent sentencing to deportation of the journalist Ali Feruz (Khudoverdi Nurmatov). Ali is clearly being victimised for fighting against attacks on human and democratic rights. In particular he has helped to expose discrimination against migrant workers and national groups, and has spoken up for LGBT rights.
He has worked closely with members of our sister organisation in Russia, Socialist Alternative, in establishing the Independent Trade Union of Journalists.
Ali has previously been tortured in Uzbekistan, so deporting him to that country would clearly endanger him.
We gather an appeal hearing is soon to take place, and we urge that it calls a halt to this political persecution of a courageous man who has done nothing but struggle for human rights. Until Ali is freed, we will continue to support and publicise his case.
---
Note: On 9th August, the Moscow City Court decided to suspend the deportation of Ali Feruz until the case can be reviewed by the European Court of Human Rights, which has expressed its concern. This is already a result of the protests in Russia (outside the Presidential Administration in Moscow) and the international campaign in solidarity with Ali.
But Ali remains incarcerated in the so called "Suvsig" – a prison for foreigners just outside Moscow, for a "crime" he did not commit.
Click here for a video produced by the Independent Journalists Union calling for Ali's release.
Socialist Alternative (CWI in Russia) is planning a further day of action in support of Ali on 19-20th August in support of the following demands:
Free all journalists and political prisoners
For the immediate release of Ali from the deportation prison
Stop Ali's deportation and grant him political asylum
In the UK send protests to the Russian embassy: 6/7 Kensington Palace Gardens, London W8 4QP. Click here for phone and email details.
---
To the Kazakhstan ambassador
Re Larisa Kharkova
We are writing to express our anger and opposition to the sentence recently given to the head of the Confederation of Independent Trade Unions of Kazakhstan, Larisa Kharkova, by a court in Shimkent.
It is also outrageous that Larisa faces confiscation of personal property (including her flat), a five year ban on trade union activities and 100 hours of public work a year.
She was accused of 'misuse of powers', but this charge was clearly a ruse to punish her for supporting workers' struggles – including her public support for the hunger strike by oil workers in Mangystau in January.
We also strongly protest against the persecution of other trade unionists, including the Deputy President of the CITUK – Nurbek Kushakbaev – who was in April sentenced to 2.5 years in prison; and the head of the oil workers' protest – Amina Yeleusinova – who was in May sentenced to two years.
We will continue to highlight these blatant, undemocratic attacks on trade union rights and to publicise them and campaign against them among trade unionists in Britain and internationally.
---
Send protests to the London Kazakhstan embassy: 125 Pall Mall, London SW1Y 5EA. Click here for the embassy's phone and email details.
Send messages of support for Larisa Kharkova to [email protected] and [email protected] and they will be forwarded.