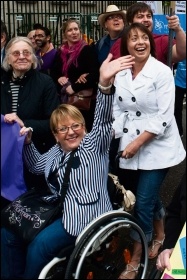 The planned cuts will hit disabled people and their carers, photo Paul Mattsson (Click to enlarge: opens in new window)
Reverse all the cuts now!
'Alan Smith', PCS union member, Coventry
A damning UN report has criticised the government's attacks on disabled people in Britain. It states legislation has "failed to recognise living independently and being included in the community as a human right."
The report refers to the "segregation" of disabled children who most often end up in "special schools" due to a lack of support and integration in mainstream schools. It also calls for more resources to support individual living for disabled people.
This is not the first such scathing report. In November 2016 another UN report spoke explicitly of "grave or systematic violations" of the rights of disabled people.
Shockingly, back in February last year, the Tories had the gall to claim their party "does proudly" with supporting disabled people with "very generous schemes." This at the time they were cutting another £3.7 billion from disability benefits!
Social security is one of the areas mentioned in the report, which also calls for a review into the vicious system of benefit sanctions. Both reports have also criticised the current system of medical assessments for sickness benefit claimants.
Between December 2011 and February 2014, 2,650 people died within six weeks of their claim ending. All had been declared 'fit for work' by the Department for Work and Pensions (DWP) and the private contractors who carry out assessments.
And DWP plans to close almost one in ten in jobcentres nationally will only make things worse. Civil service union PCS has long campaigned against both the punitive benefits regime and the office closures.
Disabled people across Britain have faced relentless attacks in the name of vicious austerity policies.
The Socialist Party fights for:
Reversing the benefit cuts – for the right to secure, independent living
Increased NHS funding – including more mental health services