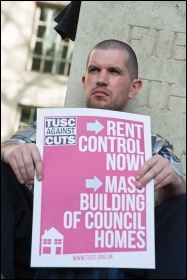 Protesting against the effects of the housing crisis, photo Paul Mattsson (Click to enlarge: opens in new window)
Paul Kershaw, chair, Unite LE1111 housing workers branch
A standing ovation greeted Jeremy Corbin's pledges on housing at Labour's conference: to stop 'social cleansing' regeneration schemes and give residents a vote on regeneration proposals; to build more council homes and to control rents.
That response was echoed outside the conference. In the past Labour had little to offer on housing for workers and young people; the idea that Labour could really change things has been electrifying.
But Labour is still two parties in one and right-wing Labour councils are pressing ahead with destructive and unpopular regeneration schemes. The Labour council in Haringey, north London, responded to the housing resolution from Tottenham Labour Party – in its own area and adopted by conference with no opposition – by rejecting it outright!
It argued that balloting people affected 'oversimplified' the issues. Labour's leadership must ensure that democratic decisions are carried out and the threat to homes across Haringey is lifted (see 'Hundreds march against Labour council's development plan'). It would be a scandal if the pro-austerity Liberal Democrats, who have opportunistically opposed the Haringey regeneration plan, were to make electoral gains because of the Blairite-led council.
Jeremy did not give details of plans for rent controls but the very idea of intervening produced howls of anguish from the establishment, unfortunately including the housing charity Shelter.
It is argued that making rents truly affordable would cause landlords to sell up, thereby reducing the supply of rental properties. But with evictions rising and housing insecurity blighting the lives of a generation, real rent control is a vital emergency measure that would attract huge support. It's estimated for example, that 25% of households of private renters in London spend more than half of their income on rent!
Clearly, since private landlords are unable to meet the need for secure and genuinely affordable homes we need a massive programme of building secure, good-quality, council homes.
Jeremy raised the need for rent controls when campaigning for the Labour Party leadership but the idea was watered down in the party manifesto by Labour's right wing to merely restricting the rate of rent increase landlords could impose. Jeremy is right to raise it again, but now we need clarity.
Until recently housing association bosses and senior Tories suggested that social housing led to a dependency culture and were moving to wipe out social housing. Funding for social housing has virtually ceased and what funding remains for housing goes to 'affordable', ie largely unaffordable, home ownership.
Unfortunately Jeremy Corbyn's message has been blunted by the right-wing housing shadow minister John Healey, who set a priority of promoting home ownership when he took up his position. He commissioned a report from the boss of the private house builder Taylor Wimpey who came up with the conclusion that no fundamental policy change was needed!
Tories
In her disastrous Tory Party conference speech Theresa May felt she had to make a gesture of support for social housing because of the wave of support for anti-austerity policies – reflected in Labour's electoral surge in the general election. She pledged £2 billion extra spending toward a "new generation of council houses". However, it was revealed that this meant building as few as 5,000 council homes.
This is a trivial amount given the scale of the housing problem and its significance can be gauged by the fact that the government has also committed to an extra £10 billion support for house purchases.
The balance was actually tilted further away from council housing. Spending on supporting house purchase schemes – 'help-to-buy' – simply pushes up prices rather than helping people into owner-occupation; good for private house builders and banks, not for workers.
While the Bank of England is starting to panic about levels of rising personal debt, particularly as it plans to raise interest rates, government policies only draw more people into greater debt by getting them to take on ever larger mortgages.
Clearly, the need for a comprehensive socialist housing programme has never been greater.
The Socialist says:
Rent control now! Democratic rent councils to decide fair levels in each area
A mass programme of council house building and renovation to meet demand
Hands off our homes! End the privatisation of social housing. Stop 'social cleansing' redevelopment schemes
Housing benefits that reflect the real cost of renting
Councils should compulsory purchase long-term empty properties and use them as council housing
Nationalise the banks and biggest corporations. For a democratic socialist society that puts the needs of the majority, including decent, genuinely affordable housing, before the profits of the super-rich