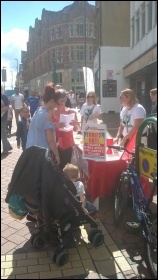 Derby Socialist Party campaign stall in support of Derby Women's Centre 12 August 2017 photo Derby SP, photo Derby SP (Click to enlarge: opens in new window)
Kelly Carson, Derby Socialist Party
Derby's Women's Lives Matter meeting was poignant in many respects. Not only did it take place during International Women's Day celebrations and the centenary of certain women getting the vote, but it was also 40 years since Derby Women's Centre was formed by a group of local women.
The centre previously had core funding through the council's community grants programme but that stopped in 2012.
During its history the centre has employed many staff and volunteers but due to Labour-run Derby council cuts is now staffed entirely by volunteers who rely on fundraising and public donations to keep going.
The eloquence and passion of the speakers from Doncaster Women's Aid centre, also fighting closure due to council cuts, highlighted the funding crisis faced by many similar centres across the UK.
These centres provide vital services, and having access to the support and advice they provide is a matter of life or death for many women and children facing domestic abuse.
It is essential to have safe spaces that provide the ongoing support needed to aid recovery and assist those fleeing for their lives. Not only do they save lives, they also improve them, and lessen the burden on the NHS and other emergency services.
Investing in women's services and refuges should be seen as an urgent priority. The message from these strong, compassionate women is clear. We won't give up, and we won't give in, we will unite our campaigns and call for action and we are proud to have so many good men standing in solidarity with us, and actively campaigning alongside us to protect the rights and services of women.