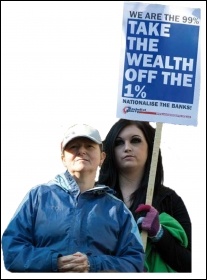 We are the 99% – Take the wealth off the 1% – Socialist Party placard, photo Paul Mattsson (Click to enlarge: opens in new window)
Simon Carter, East London Socialist Party
Capitalist wealth distribution is now at its most unequal and set to widen further.
As of March, there were 2,208 billionaires in the world, according to Forbes. Their total worth is $9.1 trillion, an increase of nearly a fifth on 2017 – average wealth, $4.1 billion.
And Amazon founder Jeff Bezos has become the planet's first hundred-billionaire, with a $106 billion personal fortune. He pipped Bill Gates to first place by adding a staggering $39 billion to his wealth in just a year.
Shortly afterwards, the Tory government's latest cuts in 'universal credit' benefits came into effect.
Even before the most recent changes, families had to wait many weeks for payment, leading to rent arrears and evictions. And food banks report a big uptake from families in areas where universal credit has been rolled out.
Now, according to the Resolution Foundation, 3.2 million working families in the UK are expected to be worse off, with an average loss of £48 a week. About 600,000 of those, mainly couples with children, will no longer be entitled to any help at all.
True, 2.2 million working families will gain an average increase of £41 a week. But the maths shows that overall, one million families will lose out.
But what about the government's commitment to reign in the tax-dodging mega-rich? "When it comes to opportunity, we won't entrench the advantages of the fortunate few," pledged Theresa May.
Yet parliament's Public Accounts Committee has found that the HM Revenue and Customs tax take from 'high net worth individuals' fell by £1 billion since the Tories set up a special unit for them. Income tax paid by all other taxpayers has risen by £23 billion over the same period.
For the Tories, it's business as usual – robbing Peter to pay for super-rich Paul. Four years ago, a PCS union-commissioned report found that £119 billion in tax was being dodged in the UK, mainly by big companies and wealthy individuals.
Compare that figure to government spending on education, £90 billion, transport, £20 billion, and health, £148 billion in 2016-17, according to Institute for Government analysis.
Let's kick out this government of the multibillionaires and fight for a socialist programme to reverse austerity and make the super-rich and their giant corporations pay to increase the living standards of the 99% through nationalisation and progressive taxation.