Vote TUSC to fight racism, cuts and privatisation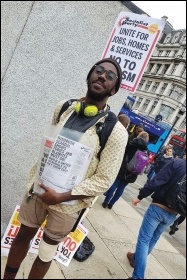 Demonstrating against the Tories' and Blairites' 'hostile environment' policy, photo by Paula Mitchell (Click to enlarge: opens in new window)
Paula Mitchell, London Socialist Party
Hundreds of people marched in Brixton when the Windrush scandal broke, and then an important protest took place in central London on 28 April, called not by any organisation but by individuals who see the need to fight.
Socialist Party members attended, as did local election candidates for the Trade Unionist and Socialist Coalition (TUSC), the electoral alliance including transport union RMT and the Socialist Party.
Hugo Pierre is TUSC candidate for mayor of Tower Hamlets, and a member of the national executive council of public service union Unison.
He spoke at the protest. As a trade unionist, Hugo has defended people affected. "People who have lived in this country from being young children, then being told they don't have the right to remain.
"We've had to fight every one of those cases, and actually we've won some of those cases, people who have now started to get their biometric cards, so they can stay and be resident, and keep their jobs and their livelihoods."
Hugo pointed out that "25 years ago, thousands of us marched through the streets of south London after the murder of Stephen Lawrence, and it shows how things have not moved on.
"We had the spectre of Labour ministers starting this 'hostile environment', under Tony Blair and his neoliberal policies. We've now seen a Tory government run with it.
"We have to oppose all of those politicians who voted for these measures or who disgracefully sat on their hands." To cries of "shame," Hugo pointed out that only six Labour MPs opposed the legislation at its third reading in 2014.
Hugo called for everyone to attend the 12 May Trade Union Congress demonstration. He said: "Organise action through our trade unions, demonstrations to bring our communities together, black and white youth, trade unionists, working class people need to come together to oppose the austerity measures and immigration measures.
"The Tories are running scared. We've got to get them out and put in place a government that's prepared to fight in the interests of ordinary working people."