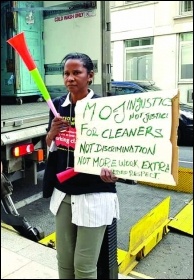 Ministry for Justice striking cleaner August 2018, photo London Socialist Party (Click to enlarge: opens in new window)
In early August, cleaners at Kensington and Chelsea council and the Ministry of Justice (MoJ) took three days strike against poverty pay. The cleaners, who are outsourced to agency Amey, are paid the minimum wage (£7.83 an hour) and they have decided enough is enough. Both the council and MoJ conveniently blame the contractor for the low rates of pay.
The vibrant picket lines are a staple of the United Voices of the World union, which organises mainly low-paid cleaners, many who come from South America. The Socialist spoke to 'Mariela' on the Kensington and Chelsea picket.
Can you tell us what the strike is about?
It's about the living wage because we are looking for the living wage in London (£10.20 an hour). We are now employed on poverty wages.
How successful has the strike been?
Yes really, really successful, because now they listen to us. Before, without the strike, they don't want to listen. Many people support us. They [the council] are coming to talk to us, people who are very important. And we are very, very bold now.
It's a really good first step. Are many cleaners on strike? Is it the majority?
Yes it's the majority and many people from other companies are coming to support us as well. Today it is just Kensington and Chelsea and the Ministry of Justice on strike but there is another company as well.
What sort of problems do the cleaners face?
Because we get poverty wages we have to work more hours a day. Like me, many cleaners are working eleven or 12 hours a day, and another team is working 60 or 80 hours a week just to pay the rent, pay the bills, the transport… we have to work lots of hours.
Maybe if you win it will have an effect on other low paid workers in other councils and other low paid work places?
Yes, if we win it will be a lesson for everyone, people will be very happy, very excited. It's not only about us – it's against the poverty wages in London. We are looking out not only for us but for all people.