Link to this page: https://www.socialistparty.org.uk/issue/1021/28368
From The Socialist newspaper, 5 December 2018
Editorial of the Socialist, issue 1021
Corbyn and trade union movement urgently need to fight for a general election to kick out the Tories
The clock is continuing to tick for Theresa May and the Tories. The stakes are high for everyone - May and the Tories and behind them the British capitalist establishment. But also for the working class and the labour and trade union movement. What happens in the next few weeks can be critical.
May's Brexit deal goes to the vote in parliament on 11 December and as we go to press, it is looking likely that it will fall. This would be a huge setback for big business, who at this stage, despite their Remain position, have reluctantly become reconciled to May's fudged deal.
This is because it is the softest possible Brexit that attempts to retain as much of the neoliberal rules and directives of the EU that they believe they can get away with. As the vote nears, doomsday scenarios from the financial institutions, including the Bank of England, are being brought out to give the impression that May's deal is the only option.
Demonstration
It appears that there will be a TV debate between May and Jeremy Corbyn on the deal. But the danger is that the labour and trade union movement reduce themselves to bystanders, even though this vicious anti-working class Tory government is tottering and nearly off its feet. In a period such as this, the movement must urgently act. We have called for an emergency Trade Union Congress general council that should organise a mass demonstration around the demand of 'Tories Out - for an immediate general election.'
If this had been done, it could have totally changed the situation. However, in the absence of this action, other forces are attempting to fill the vacuum that can divide the working class. Ukip and the far-right Tommy Robinson have called an opportunist and divisive 'Brexit betrayal' demonstration two days before the parliamentary vote on 9 December.
But if there was a mass anti-Tory, anti-austerity demonstration led by Corbyn, John McDonnell and the trade unions, it would have the potential to unite workers against the government. This should have already been called - time has been lost - but plans should now urgently be put in place to call such a demonstration on 15 December if May loses her vote.
Imagine if Corbyn used the TV debate to appeal to workers and their families to come to such a mobilisation, promising that he will table a vote of no-confidence if the deal is lost. He could put forward the anti-austerity programme of last year's general election, explaining how his policies to renationalise the railways, Royal Mail and other privatised services and industries would run counter to EU regulations and May's deal. He could also explain how such a government would link up with workers' struggles across Europe, such as the fuel protests in France against Macron, the poster-boy of many pro-austerity Remainers.
This would immediately change the whole debate - giving a working-class alternative to the Tory and Blairite Remainers and the Tory hard Brexiteers, both of them committed to protecting the profits of big business at the expense of workers.
General election
However, the pressure is being put on Corbyn and McDonnell to retreat. Over the weekend, Sir Keir Starmer, shadow Brexit secretary, has cranked up this message still further. McDonnell's earlier interview with the BBC signalled a passive acceptance that a general election will not be held: "We should have a general election but that's a very difficult thing to do because of the legislation that David Cameron brought forward. If that's not possible, we'll be calling for the government to join us in a public vote."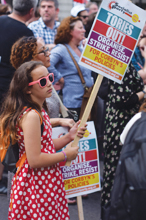 Tories out!, photo Mary Finch
McDonnell justified this because of the "difficulty" in overcoming Cameron's Fixed-Term Parliament Act. But this poses things in purely parliamentary terms and ignores the potential of a mass movement that he could lead with Corbyn and the unions in fighting for an election. He should remember the protest in Parliament Square in 2016, organised when the Parliamentary Labour Party were meeting as part of the attempted Corbyn coup. It helped to galvanise the campaign to defeat the Blairites. Better still, he should remind himself that despite the Act, there was a general election called last year, just two years into the five-year term. And the result has left May's government in crisis!
McDonnell has also admitted holding secret talks with Blairite spin-doctors Alistair Campbell and Tom Baldwin, now playing a leading role in the People's Vote campaign, allowing sections of the media to strengthen the emphasis on another referendum at the expense of a general election. The People's Vote campaign includes the likes of Tory Anna Soubry and Blairites Chuka Umunna and Sadiq Khan, who virulently oppose Corbyn and his polices.
Pressure
This is a dangerous road, creating a perception that perhaps Corbyn is allying with the neoliberal pro-EU campaigners. The Momentum group are one of the organisations supporting the 9 December Remain demonstration. All this is an anticipation of how he could come under huge pressure if elected into government. Actually, the Blairites see a second referendum as a means to avoid a Corbyn-led Labour government.
Corbyn must stand firm in opposition to any Brexit deal that retains the anti-working class, neoliberal and pro-austerity features of the EU bosses' club. He should whip Labour MPs to vote against May's deal, and should it fail, be prepared to table a vote of no-confidence in order to force a general election. But it should be backed up by a mass mobilisation of the working class through joint action by Corbyn and the trade union movement. This is the urgent strategy needed to force the Tories out and unite workers for a socialist alternative.
Donate to the Socialist Party
Coronavirus crisis - Finance appeal
The coronavirus crisis has laid bare the class character of society in numerous ways. It is making clear to many that it is the working class that keeps society running, not the CEOs of major corporations.
The results of austerity have been graphically demonstrated as public services strain to cope with the crisis.
The government has now ripped up its 'austerity' mantra and turned to policies that not long ago were denounced as socialist. But after the corona crisis, it will try to make the working class pay for it, by trying to claw back what has been given.
The Socialist Party's material is more vital than ever, so we can continue to report from workers who are fighting for better health and safety measures, against layoffs, for adequate staffing levels, etc.
Our 'fighting coronavirus workers' charter', outlines a programme to combat the virus and protect workers' living conditions.
When the health crisis subsides, we must be ready for the stormy events ahead and the need to arm workers' movements with a socialist programme - one which puts the health and needs of humanity before the profits of a few.
Inevitably, during the crisis we have not been able to sell the Socialist and raise funds in the ways we normally would.
We therefore urgently appeal to all our viewers to donate to our special coronavirus appeal.
---
In The Socialist 5 December 2018:
---
What we think

Corbyn and trade union movement urgently need to fight for a general election to kick out the Tories
---
International socialist news and analysis

France: mass demonstrations force president to back down

Midwives go on strike in New Zealand
---
Socialist Party feature

The growth of artificial intelligence technology
---
Workplace news and analysis

PCS AGS election: Where now after the PCS Left Unity conference?

Blairite Birmingham steps up union-busting and two workforces plan strikes

Victory! Grimethorpe dinner ladies' strike beats job cuts

Victory for left in RMT union president election

WHSmith: hands off our Post Offices!

Bradford College joins #FEfightback strike for decent pay

Workplace news in brief
---
Socialist Party news and analysis

Austerity: not one more day - Tories out now

Health bosses move goalposts on A&E waiting times: more funds for our NHS now!

Northamptonshire council crisis continues

Arrogant landlords can be beaten

Fatal bus crash - an avoidable tragedy

Racist attack in Huddersfield
---
Socialist Party reports and campaigns

Fight Cardiff Council's school cuts

Join the march through Woking against austerity

Fighting NHS and fire services cuts and closures in Merseyside

Socialist Party argues against fire service cuts at Tyne and Wear consultation

Leeds TUC conference to organise fight against austerity

West Midlands Socialist Party women's meeting: our role in changing society

Socialist Students conference date set
---
Home | The Socialist 5 December 2018 | Join the Socialist Party
Subscribe | Donate | Audio | PDF | ebook
---