Non-fiction – Socialism: Utopian and Scientific
Engels' classic essential for understanding socialist ideas old and 'new'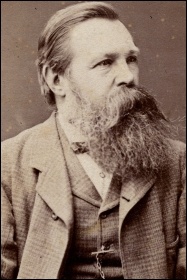 Friedrich Engels, Karl Marx's collaborator and co-founder of scientific socialism (Click to enlarge: opens in new window)
Mary Finch, East London Socialist Party
As Tony Saunois points out in his foreword to the new Socialist Books reprint, 'Socialism: Utopian and Scientific' remains one of the best introductions to Marxist ideas.
It was the first Marxist text I read after joining the Socialist Party seven years ago. Admittedly, a lot of it went completely over my head! But there were lessons I took from it on my first reading which have drawn me back to it again and again.
One of the most valuable things about this pamphlet by Karl Marx's co-thinker Friedrich Engels is its clear and concise explanation of dialectics, the science of change, and how it applies to the real world.
Engels lays out the transition from feudalistic societies and economies to early capitalism. He concretely explains the forces at work behind this process, and how it changed the relationships between classes. Understanding of these forces is an essential building block for understanding and organising in the working class today.
Its continued relevance has also been shown by the recent revival of 'new' utopian ideas and reformism, which imagine an end to capitalism without the need for workers to fight for power.
Engels describes some of the huge struggles, like the French Revolution, which took place when capitalism was still in its infancy. At that time, the limited development of the new working class held back its consciousness of its own role, and the strength of its movements for change.
There was only a glimpse of the potential power of organised workers in fighting capitalism and building a fundamentally different society.
As a result, what Engels calls "utopian socialists" drew the conclusion that workers are unable to fight for ourselves, and need other forces – 'benign' capitalists or the middle classes – to make change on our behalf. Utopians like Robert Owen tried to build 'islands of socialism' which they thought could convince profit-driven capitalists to create a rational, fairer economy.
Marxism
These failed, but their pioneering examples were key to developing a more thoroughgoing socialist understanding. The "scientific socialists" – the Marxists – exposed the impossibility of the ruling capitalist class voluntarily dissolving itself, and looked at the inner workings of capitalism to find that only working-class struggle could overcome this.
Today is a very different context to that which Engels lived in. Capitalism is a fully developed world economic system.
In capitalism's current crisis, though, the working class is yet to decisively put its stamp on events. After ten years of devastating austerity without a successful mass movement of workers against it, there is confusion about which force in society can achieve change.
Many workers and young people are encouraged by the idea that we can make tweaks and changes to the capitalist system. But without taking the economy and society out of the hands of the super-rich, reforms on their own can never be complete or permanent.
There is, similarly, a search for forces other than the working class which can temporarily seem more radical and willing to enter struggle. But it is workers who keep the economy going, the basis for all society on top of it – so it is the working class which is uniquely placed to seize democratic control of it.
The capitalist class will always act to preserve its system, no matter the cost. It's not enough to challenge capitalism – workers have to remove it, and replace it with a socialist world.
Only the working class can achieve socialism, whether based in the factories and mills of Engels' time or their modern equivalents today. 'Socialism: Utopian and Scientific' is essential preparation for the urgent tasks facing workers and socialists today.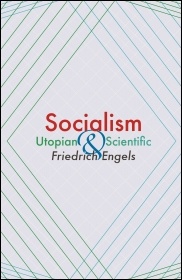 Socialism: Utopian and Scientific – reprinted by Socialist Books (Click to enlarge: opens in new window)
20% discount for bulk and reading group orders – use the code 'BULK' at checkout