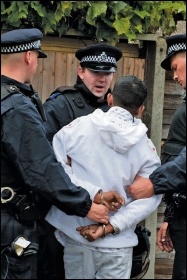 More repressive police powers will only esacalte tensions, photo by Senan (Click to enlarge: opens in new window)
Kristian Sucilla O'Sullivan, Birmingham North Socialist Party
There has been a tragic rise in knife crime.
In my home city of Birmingham there have been over 270 knife crimes so far this year. West Midlands Police report an 87% increase since 2013-2014.
A study published by the All-Party Parliamentary Group on Knife Crime links council cuts to youth services and the increase of knife crime. This is a position working-class people have been putting forward for years!
Areas worst hit by youth spending cuts also saw some of the biggest knife crime rises. Council youth services have been cut by 40% since 2014-2015.
This study was produced by politicians responsible for passing on austerity cuts. It's good to acknowledge the link, but what are they going to do about it?
The chief constable of Birmingham police promised 'more patrols and more stop and search'. Just bringing in more officers doesn't guarantee crime being reduced.
In March, the Socialist Party said: "Measures like [extra police on the streets] can have a contradictory impact – sometimes making whole communities feel criminalised rather than protected – especially with police powers like 'stop and search' which disproportionately target black people."
Police should be democratically accountable to the communities they police in order to ease the tension where it exists.
There needs to be a holistic approach – understanding the social factors behind crime such as poverty. Poverty is increasing every day.
Low-paid and insecure jobs, unaffordable housing and increasing rent, draconian welfare sanctions, rising transport costs of transportation and cuts to youth centres and youth programmes mean future opportunities are being stolen from this younger generation.
In desperation, people can turn to gangs and crime to escape from poverty.
This is a shocking study, but it proposes no action. We need to tackle poverty head on with rent control and council homes, a minimum wage of at least £10 an hour as a step towards a real living wage, free education and living grants so students don't leave education in debt, and fully funded youth and public services.
A socialist society would value the lives of young people. And take the wealth at the top into public ownership under democratic workers' control to start to do this.