Link to this page: https://www.socialistparty.org.uk/issue/1044/29180
From The Socialist newspaper, 29 May 2019
Blistering UN report condemns Tory austerity - workers' action can end it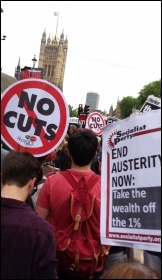 Trafalgar Sq, 27.5.15, protesting against the Tory government's austerity onslaught , photo Rob Williams (Click to enlarge)
Tom Baldwin, Bristol South Socialist Party
The final United Nations report on austerity Britain pulls no punches in describing the scale and depth of poverty.
UN Special Rapporteur Philip Alston exposes the Tories' "systematic immiseration of a significant part of the British population."
It's full of hard-hitting statistics. One in five people live in poverty in the world's fifth-largest economy.
Child poverty levels rising to an expected 40% "would not just be a disgrace, but a social calamity and an economic disaster rolled into one."
The results will be sadly familiar to readers of the Socialist. They describe people choosing between eating and heating, children going to school hungry, and people forced to sell sex or join gangs to escape destitution.
The report charts the rise in food banks and homelessness, and describes how "living in poverty can also take a severe toll on physical and mental health."
Its damning conclusion is that Britain is heading towards conditions imagined by Thomas Hobbes in 1651, with the lives of the least well-off "solitary, poor, nasty, brutish, and short."
The role of pro-market policies is clearly exposed. The report has sections on cutting benefits, decimating legal aid, shrinking local government funding, privatisation, and Universal Credit.
Attacks on welfare are creating "a digital and sanitised version of the nineteenth-century workhouse, made infamous by Charles Dickens."
The uncaring response of the Tories is laid bare. "In the face of these problems, the government has remained determinedly in a state of denial." They don't even measure poverty consistently, let alone address it.
The UN represents capitalist governments around the world, dominated by the most powerful countries. It is rare to see them even criticise a government like Britain's, and the report will not result in action from them.
But working-class people cannot tolerate a situation where "great misery has been inflicted unnecessarily."
This report should be a spur to follow up May's resignation with a fight to get all austerity politicians out - Tories, Blairites and the rest.
We must end poverty with socialist policies to take the wealth out of the hands of the super-rich, rather than allow society to be run in the interests of billionaires who profit at our expense.
The UN and Tories will not act for us - the trade union leaders and Jeremy Corbyn must call mass workers' action now.
Donate to the Socialist Party
Finance appeal
The coronavirus crisis has laid bare the class character of society in numerous ways. It is making clear to many that it is the working class that keeps society running, not the CEOs of major corporations.
The results of austerity have been graphically demonstrated as public services strain to cope with the crisis.
The government has now ripped up its 'austerity' mantra and turned to policies that not long ago were denounced as socialist. But after the corona crisis, it will try to make the working class pay for it, by trying to claw back what has been given.
The Socialist Party's material is more vital than ever, so we can continue to report from workers who are fighting for better health and safety measures, against layoffs, for adequate staffing levels, etc.
When the health crisis subsides, we must be ready for the stormy events ahead and the need to arm workers' movements with a socialist programme - one which puts the health and needs of humanity before the profits of a few.
Inevitably, during the crisis we have not been able to sell the Socialist and raise funds in the ways we normally would.
We therefore urgently appeal to all our viewers to donate to our Fighting Fund.
---
In The Socialist 29 May 2019:
---
EU elections

Tories smashed in Euros - Now get them out

Euro elections 2019 - Across Europe

Euro-elections in Scotland and Wales
---
International socialist news and analysis

India: Modi victory - Socialist fightback needed
---
Climate change

The Green New Deal we need is socialism

Climate change strikes continue to resonate
---
Socialist Party news and analysis

Blistering UN report condemns Tory austerity - workers' action can end it

Them & us
---
Workplace news and analysis

Save steel jobs: Demand socialist nationalisation

PCS conference: defeats for union officialdom and steps taken to rebuild a fighting left opposition

Determined Sellafield nuclear workers' industrial action continues

Kirkby factory workers walk out over unfair dismissal

Wales train fleet workers to strike against transfer to private company
---
Socialist Party reports and campaigns

Trump out - Tories out!

Fight the far-right - fight for socialist policies

Teignmouth: hands off our community hospital!

Birmingham Pride - revitalising political struggle
---
Opinion

The unheard voices of Gosport

Obituary: Pauline Dunlop (1947-2019)

Obituary: John Boots (1942-2019)
---
Home | The Socialist 29 May 2019 | Join the Socialist Party
Subscribe | Donate | Audio | PDF | ebook
---