Bromley library strikers – fighting on to save our libraries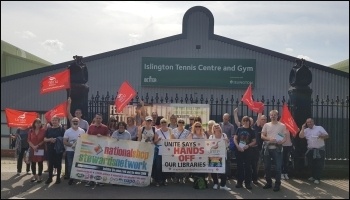 Bromley library workers protesting outside GLL tennis centre in Islington, supported by the NSSN and members of the Socialist Party, 21st August 2019, photo Isai Priya
Greenwich Leisure Limited, which has a contract to run public libraries in Bromley, will be meeting with the Unite union to discuss what is the longest running indefinite strike in the country.
We are now at a crucial stage in the campaign. The employers have been expecting the strike to collapse, but they could not have been more wrong. The strike is solid – largely due to the determination of the strikers but also because of the generous donations from trade union branches and individuals.
This is a vitally important dispute within local government – at the heart of it is the impact of privatisation. A union win in Bromley could lead to a domino effect, with the call for in-sourcing of services becoming louder and louder.
We are therefore making a further financial appeal to trade unions to support the strikers. Cheques can be made payable to Onay Kasab and forwarded to 33-37 Moreland St, London, EC1V 8BB and messages of support via [email protected]