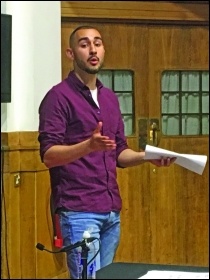 Councillor Tolga Aramaz was suspended by Labour after taking a stand against implementing Tory cuts, photo Mary Finch (Click to enlarge: opens in new window)
Unite regional committee votes to support anti-cuts Enfield councillor
A Unite member
Unite's London and Eastern regional committee voted at its recent meeting to support anti-cuts Enfield Labour councillor Tolga Aramaz and a campaign in the borough against the cuts.
A motion [below] from the region's local authorities sector committee (RISC) was carried against the advice of the top table.
But Unite local government workers have taken much of the brunt of the cuts; councils have shed 800,000 jobs under austerity and many delegates felt enough is enough, stating that a breakdown of trust between communities and right-wing Labour councillors was a factor in Labour's general election defeat.
A Unite submission to the APSE [Association for Public Service Excellence] local government commission has recently stated that councils should set "legal, balanced, no-cuts, needs-based budgets" and "work with Unite in a joint campaign".
It will now be down to local campaigners in Enfield, including trade unionists and Labour Party activists, to come together with the Unite region to launch a campaign against austerity.
MOTION: Fighting Local Government cuts
This Local Authorities RISC notes:
That over 800,000 jobs have been lost from local government since 2010.
The strain being put on local government services such as social care, many of which are now at breaking point. This has an impact on Unite members, not just as employees but as residents who are dependent on local government services.
The stand being made by Tolga Aramaz, Labour Councillor in Enfield, who refused to vote for cuts.
That Tolga has again made clear he will continue to refuse to vote for cuts.
This RISC agrees:
1. That the stand being made by Tolga is in line with Unite policy in opposing local government cuts.
2. To support a proposed no cuts campaign in Enfield.
3. To call on other councillors to also make the same stand.
It was resolved that the Motion be referred to the Regional Committee.
---
This version of this article was first posted on the Socialist Party website on 23 January 2020 and may vary slightly from the version subsequently printed in The Socialist.