End health and wealth divide – fight for our NHS
Alistair Tice, Socialist Party Yorkshire
Take a ride on the 83 bus across Sheffield and it takes ten years off your life! That's how long life expectancy falls travelling just ten miles from the wealthier parts of the city to the poorest.
And 'healthy life expectancy' – that is, without serious illness or disability – falls a staggering 20 years! These shocking statistics are repeated in every city and across the country, exposing the health inequalities in Tory Britain.
Boris Johnson now talks about 'levelling up' infrastructure. But his Conservative governments have spent the last ten austerity years racing our NHS to the bottom of international healthcare league tables.
All health experts agree that the NHS needs an annual increase in funding of 4% just to stand still. But the average over the last decade has been only 1.6%, meaning Britain now has the lowest health spending per person of the major western economies.
17,000 less beds than in 2010. 10,000 doctors short. 40,000 nurses short. 122,000 vacancies in social care.
A junior doctor writing in the Guardian says: "Without beds we can't admit new patients; without staff we can't treat patients; and without social care we can't discharge people.
"This is why our A&E departments, barometers of the overall health of the service, are on the brink of collapse with the worst waiting times in NHS history. Patients are waiting hours to be picked up by ambulances, and queues of ambulances are waiting hours to drop their patients off.
"More people have died waiting for care in ambulances or on A&E trolleys in the last four years than have died from terrorism in the UK in the last 50 years."
So what does the Tory health secretary propose? Move the goalposts – scrap the A&E waiting targets.
The NHS will never be safe in Tory hands. NHS staff and health campaigners must take matters into their own hands.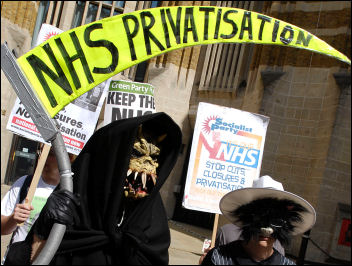 The Socialist Party's 'Grim Reaper', photo Paul Mattsson
The same junior doctor makes the call for all A&E staff to strike and protest for five minutes a shift. This points the way for NHS trade unions to take the lead in calling significant action. Like the nurses in Northern Ireland, whose recent, historic strike of 12 hours was joined by other hospital staff walking out for 24 hours.
The strike had overwhelming public support, and won significant concessions including on funding. Imagine what united national action could achieve.