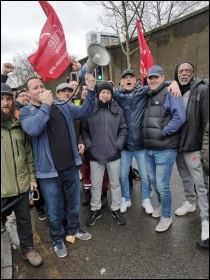 Tower Hamlets bin workers on strike March 2020, photo Hugo Pierre (Click to enlarge: opens in new window)
Burning braziers and a mass picket shouting "scab, scab, scab". No, not news footage from the 1970s, this is east London in 2020. Just a mile and a half from the gleaming symbol of capitalism, Canary Wharf, Tower Hamlets refuse workers in Unite are fighting to get back unpaid holiday pay from their contracted-out employer Veolia.
The workers are furious because 150 are owed substantial arrears. Some are claiming over £10,000 is due them. This is as a result of the 2018 employment appeal tribunal ruling that voluntary overtime should be included in holiday pay in addition to standard contractual hours.
Workers voted overwhelmingly in favour of strike action with a 96.5% yes vote in the industrial action ballot with a 70% turnout.
They are angry that a small group have had claims settled, but the company are still holding out. Unite claims that the UK waste management division of Veolia generated revenues of nearly £1 billion in the first six months of 2019.
The refuse contract is actually being brought back in-house in a few weeks' time. While we clearly welcome this, it is scandalous that Tower Hamlets Labour council isn't insisting that this issue be resolved before it happens.
Unison national executive committee member Hugo Pierre visited the picket line, along with National Shop Stewards Network (NSSN) chair Rob Williams. Rob spoke to strikers to give solidarity from the NSSN. He called on the council to intervene to ensure that every penny of unpaid holiday pay is returned to the workers. "Never again should services such as these be outsourced to these private companies again."
The workers ended their week of action with the news that the company had approached the union for talks. Understandably, while welcoming this development, they wanted to wait to see if Veolia were really serious about paying up. They have more strikes planned soon if they need to step up the action to get their money.