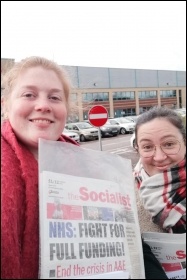 Selling the Socialist in Leicester, 13.2.20, photo Leicester Socialist Party (Click to enlarge: opens in new window)
Just some of the events where the Socialist newspaper was sold in the past week…
Carlisle: Restore NHS beds and staff
The Socialist Party was the first organisation in Carlisle to have a public information stall on this most important issue.
Many people came over to get a leaflet, buy a copy of the Socialist, and sign our new petition.
Our petition 'Combat corona – restore NHS beds and staff' demanded that the government fill 100,000 NHS and 122,000 social care vacancies, full pay for all affected workers and nationalisation of the drug companies to put vaccines before profit.
This government of millionaires has decided to break World Health Organisation guidelines on tracing, testing and treating victims of Covid-19 to allow at least 60-70% of the population to become infected.
As always, they put big business interests above the safety and wellbeing of the people.
Martin Powell-Davies
Budget day protest
London Socialist Party protested outside Downing Street – along with civil servants union PCS – and Parliament when the budget was being read out in the House of Commons.
Our meeting after – how cuts can be beaten – included strikers from the University and College Union (UCU).
Read our response to Boris Johnson's coronavirus budget for the bosses in other articles.
Wood Green, north London: No work, no pay
We had one of best campaign stalls for a long time in Wood Green, north London. Campaigning for more funding for the NHS to combat coronavirus, and for workers to receive full pay if they have to self-isolate or cannot go into work, we sold 34 copies of the Socialist.
One carer on a zero-hour contract, told us that because of coronavirus she is no longer able to accompany a disabled person as she normally does, so is not getting paid.
Another young person said his mother, also on a zero-hour contract, worked on events in hotels but had no work because of cancellations.
These workers should be entitled to emergency benefits at full pay for the equivalent of the average national working week.
John Dolan
Mansfield: It's always us
Our Socialist Party stall was busy, campaigning to save children's speech and language therapy and mental health support for pregnant women from cuts.
People say: "It's always us (the working class) that have cuts to our services, we're fed up with it."
We reply: "The only way to stop the cuts, is to build a campaign to fightback. Have you heard of Chatsworth Ward? It was saved because people fought to save it. If you fight you can win, if you don't fight you will always lose."
We sold 17 copies of the Socialist at our campaign stall, at West Notts College, and at a film showing of Sorry We Missed You.
Paul Tooley-Okonkwo