Link to this page: https://www.socialistparty.org.uk/issue/1095/31072
From The Socialist newspaper, 15 July 2020
Water shortage warning: nationalise now!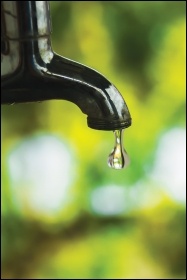 Britain's privatised water infrastructure loses over 3 billion litres a day through leaks (Click to enlarge)
Roger Bannister, Liverpool Socialist Party
The House of Commons Public Accounts Committee has expressed concern that parts of England could run out of water within 20 years. This seems a crazy situation - especially to those of us living in the North West, where water falls freely out of the sky on an all-too-frequent basis!
And crazy it is, because it is the crazy logic of capitalism that created it. Prior to 1989, water and sewage were the responsibility of ten publicly owned regional water authorities. But Tory prime minister Margaret Thatcher had them in her sights for privatisation.
She started by curtailing the ability of water authorities to borrow money. This meant they were unable to maintain infrastructure - much of which dated back to the 19th century, and was in dire need of renewal.
Thatcher then posed privatisation as the 'only' way to guarantee sufficient investment. Her government sold off the regional water authorities in 1989. Since 1991, they have paid out £57 billion in dividends, funded by £48 billion in debt, which could have gone on infrastructure.
Instead of renewing the system, the new capitalist owners pursued asset-stripping to make a fast buck for shareholders. By 2006, they had sold off reservoirs to the value of around £500 million, most of them drained to make way for housing developments.
Thames Water, responsible for the rapidly expanding Greater London conurbation, sold off 24. Severn Trent Water in the industrial Midlands sold off 12 in 2011, and a further five in 2016.
Attacks on workers
At the same time, water companies embarked on a process of reducing pay and conditions for their workers. Often they introduced a two-tier workforce, where new employees were hired on worse conditions than those transferred from the old regional water authorities.
Meanwhile, water charges steadily increased. They are now over 40% higher than their pre-privatisation levels.
As well as drastically reducing storage capacity, little action was taken to upgrade the Victorian system, which was, and still is, in a state of degeneration.
So today, 20% of the water in the supply infrastructure - over 3 billion litres - leaks out on a daily basis! And the nine private water firms released raw sewage into rivers 200,000 times last year.
Rather than deal with this situation, the water companies are looking elsewhere to get water. From rivers, and in particular in the south of England, from chalk streams.
If they are allowed to do this, it would be at the cost of disaster for wildlife habitats, and possibly agriculture, which often relies on rivers and streams for irrigation.
Although the Labour Party officially has a policy of renationalising water, Sir Keir the Silent has made no pronouncement on this scandalous situation. That is not good enough.
Water should be renationalised as a matter of urgency, under the elected control of water workers and users, with no compensation to the fat cats who have brought the industry to the brink of disaster.
Donate to the Socialist Party
Finance appeal
The coronavirus crisis has laid bare the class character of society in numerous ways. It is making clear to many that it is the working class that keeps society running, not the CEOs of major corporations.
The results of austerity have been graphically demonstrated as public services strain to cope with the crisis.
The Socialist Party's material is more vital than ever, so we can continue to report from workers who are fighting for better health and safety measures, against layoffs, for adequate staffing levels, etc.
We must be ready for the stormy events ahead and the need to arm workers' movements with a socialist programme - one which puts the health and needs of humanity before the profits of a few.
Inevitably, during the crisis we have not been able to sell the Socialist and raise funds in the ways we normally would.
We therefore urgently appeal to all our viewers to donate to our Fighting Fund.
---
In The Socialist 15 July 2020:
---
Socialist Party news and analysis

Workers and young people need planning for jobs, not handouts for bosses

Lockdown Leicester: trade unionists and parents fight for safety

Sexist dismissal of women's health: NHS needs democratic control

Palace letters show the monarchy is a weapon for capitalism

Defend free TV licences for pensioners!

Water shortage warning: nationalise now!

Hillingdon Hospital corona outbreak: workforce not to blame
---
No going back

A socialist programme for schools
---
Workplace news and analysis

A fighting programme for Unite

PCS executive majority cancels union democracy

'Hands off our pensions!' demand angry Nissan workers

Tower Hamlets council workers strike back

Ratcliffe rats on Bridgend workers
---
Socialist history

How capitalist restoration led to war and 'ethnic cleansing' in the Balkans
---
Black Lives Matter

How the FBI and Chicago police murdered a Black Panther

Will boosting the 'black pound' improve black workers' lives?

BLM protests - another injustice exposed
---
Readers' opinion

Books that inspired me: The Mother

TV: Ross Kemp - Living with Forced Out Families
---
Socialist Party reports and campaigns

Jobs, homes, services and a future for all!

Socialism 2020 - ideas to change the world

Nottingham trans rights protest: Our demands are the same as everyone's

Why I joined the Socialist Party

Donations help us campaign and fight for socialism

Selling the Socialist in Swansea
---
Home | The Socialist 15 July 2020 | Join the Socialist Party
Subscribe | Donate | Audio | PDF | ebook
---