Tower Hamlets council workers strike back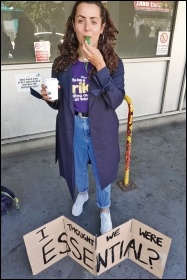 Tower Hamlets council workers struck against contract downgrades on 3, 6, 7 and 15-17 July 2020, photo by Hugo Pierre (Click to enlarge: opens in new window)
Hugo Pierre, Unison union national executive council (personal capacity)
Unison union members working for Tower Hamlets Labour-run council were sacked on 6 July, while taking their second day of branch-wide strike action, and re-engaged on worse terms and conditions.
The right-wing Labour mayor, John Biggs, is forcing changes to long-standing agreements with the council's trade unions.
The first tranche of strikes on 3, 6 and 7 July were very well supported by lively and upbeat picket lines, especially as a lot of council staff were working from home. Masks, social distancing and limits on material that could be handed out, didn't stop strikers from getting a lot of support from the public passing by. A lot of car drivers tooted their horns in support.
On one picket line, bin workers, Unite union members, refused to cross picket lines. They had recently taken strike action themselves against non-payment of wages against their employer, Veolia. Now they have been taken back in-house by the council, and could be affected by the new contract in the future.
Mayor Biggs, received a petition from hundreds of Labour Party members locally calling on him to back off implementing the proposals. Instead of organising a democratic debate among party members, who would then be allowed to decide what the mayor should do, he has desperately written to them with 'data manipulation, obstruction and obfuscation' to defend his position.
The council has faced a halving of its government funding since 2010 as part of Tory austerity. The mayor has chosen to abandon leading any fight against these cuts. He has even perversely used millions of pounds the council has saved in reserves over the last few years to paper over cracks in funding rather than use them boldly to defend services while building a mass campaign to fight for the lost millions.
Tower Hamlets desperately needs this. It is the London borough with the highest rates of child poverty, despite having the mega-rich Canary Wharf banks and finance centre sited within its boundaries.
Instead, Biggs plans to make £2 million savings each year from the new employment contracts.
The strikers are incensed that during the Covid-19 pandemic the council has referred to them as "heroes" and "key workers" only to be re-employed on inferior terms and conditions.