The Socialist: More than a newspaper, we want change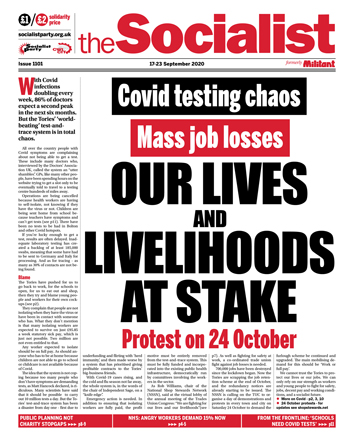 The Socialist issue 1101: Our lives and livelihoods at stake, photo Ian Pattison
I was delivering copies of our paper to subscribers on 17 September. I share bits from the Socialist a lot on Facebook, but with good reason.
There was a lot of good stuff in issue 1101:
Headline call for mass protests, because we're here for more than just news, we want change
Article direct from a headteacher about the disaster of fully opening schools: A delicious page of satire 'Rule of six – some guidance from your government"
Report from a militant and determined trade union rally
It mentions Coventry!
It goes international. What's the wave of repression in Egypt? Why are Nigerians being arrested for protesting?
Clear analysis of the test-and-trace scandal, the dramatic job losses, Boris and the EU clashing, local lockdowns from people experiencing it, and much more
If you fancy a copy, it only costs £1, and that money goes right back into keeping the Socialist going. The more people it reaches, the more people learn about events here and abroad, and see how to fight for a better world.
Adam Harmsworth, Coventry Socialist Party