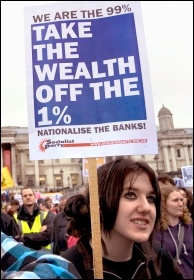 We are the 99% – Take the wealth off the 1% Socialist Party, photo Paul Mattsson (Click to enlarge: opens in new window)
Discuss & debate at Socialism 2020 – online forum: 20-23 November
How did your living standards fair between April and July this year? Chances are you didn't see your wealth increase to over ten trillion dollars. But the world's billionaires did.
Meanwhile, roughly 30 million people are unemployed in the US, about a fifth of the workforce. In autumn 2020, almost 30 million Americans reported that they have not had enough to eat at some point in the previous seven days.
In Britain, a 'period of destitution' is threatened by the twin crises of Covid and capitalism. Child hunger rumbles – and grumbles – on.
In every country on the planet, our lives and livelihoods are not safe in the hands of the representatives of the capitalist class. The big business fat cats get rich and our families and communities pay the price.
A new mass workers' party could articulate a socialist programme around which the working class could unite in struggle in our own interests. It is urgently needed. That starts with raising the idea – and fighting for it.
That was the Socialist Party's history in the Labour Party, then called Militant. Peter Taaffe was the former editor of the Militant paper and Hannah Sell was the last Young Socialist representative on the Labour Party NEC. And we continue that tradition today.
The US presidential candidate for the Green Party, Howie Hawkins, is using his campaign to raise the need to build a mass working class political voice there. Howie will speak at the main rally of Socialism 2020 alongside Hannah, Peter and other socialist fighters.
Socialism 2020 Saturday night rally
Covid, capitalist crisis, working class political representation, & the fight for socialism
21 November, 6-8pm, broadcast live
Speakers include
Hannah Sell Socialist Party general secretary
Peter Taaffe Socialist Party political secretary and former editor of the Militant
Howie Hawkins Green US presidential candidate
Bea Gardner Student activist
Hugo Pierre Unison NEC (personal capacity)
Isai Priya Socialist Party Black & Asian members' coordinator
Chaired by Helen Pattison
For agenda, tickets, info: socialism2020.net or 020 8988 8777