David Maples, Merton Unison, chair (personal capacity)
With a £66 million gap between income and expenditure, Labour-controlled Croydon Council is effectively bankrupt – politically and financially. The council has issued a section 114 notice that prohibits anything other than essential expenditure.
It threatens more job losses and cuts to services, in addition to the 410 announced in the summer. Already 59 staff have been made compulsorily redundant.
During a decade of austerity, Labour councils have had a choice. Fight for the resources for the services the community needs or come up with 'clever schemes' to generate income. Croydon chose the latter, making investments including a hotel, shopping centre and risky housing development.
A £36 million shortfall from the housing development has exacerbated the crisis. Another £30 million shortfall was caused by necessary spending to fight the pandemic and repeated cuts from central government funding.
Labour has already made deep cuts in Croydon and outsourced refuse collection, street cleaning and parks maintenance with neighbouring councils. Council chief executive Katherine Kerswell emailed all staff: "Everything that costs the council money, including our terms and conditions, will need to be considered in the search for savings."
Unison, the union representing council workers, has correctly stated it will not accept a section 114 notice as cover for attacks on members' terms and conditions and jobs. But how?
Labour councillors need to make the decision to stand up for the communities they've been elected to defend or stand aside for those who will.
If a single footballer, Marcus Rashford, can force this weak and divided government into repeated U-turns over free school meals, then 7,000 Labour councillors could mount a successful campaign to gain the £12 billion needed to properly fund local services.
Extraordinarily, only one of the candidates in the Unison general secretary election, Hugo Pierre, mentions local authority cuts in their election address. The crisis in Croydon shows the absolute need for the strategy he sets out (see below).
---
Unison general secretary candidate Hugo Pierre says: Fight for the funds from the Tories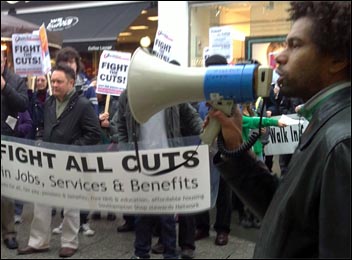 Hugo Pierre speaks to the Southampton trade unionists, community campaigners, students and socialists' demonstration organised by the Southampton Shop Stewards Network, photo Southampton SP
I want to send solidarity to all Unison members and the Unison branch in Croydon, and other trade unionists working for Croydon council. Finding out that your council has issued a Section 114 notice is worrying.
Croydon is not the only council in this situation, but looks like it's the first to crack, following years of reduced government funding and Covid 'spend whatever it takes', without sufficient funds from the government.
The Tories will no doubt call this a profligate Labour council. But this decision exposes the massive weakness of Labour councils' strategy.
Where is the pressure on Chancellor Sunak to put up the £12-15 billion that councils say is needed to end their deficits? Where is the call from the Labour frontbench to fund cash-starved councils? Why doesn't Croydon have the backing of the Labour Party to be the first council to say it refuse to make these cuts?
This lack of a strategy could have a demoralising impact on Unison members. I have been calling on our general secretary, from my seat on the Unison national executive council, to give our members in local government a fighting strategy to save their jobs and services.
We should be supporting our members to take action. And we should be calling all our local government branches together in national action, to win back the money the Tories have taken from our services.
If Labour councillors are not prepared to take this stand at this crucial time, our union should give no more money to cutting and privatising Labour councillors. It should allow our branches to democratically decide to support candidates from the trade union and workers' movement who will fight for our jobs and services.
See Hugo's programme for women workers on page 7 and find 'Hugo Pierre 4 Unison General Secretary' on Facebook.
Rules introduced by Unison to clamp down on democratic debate in the union mean that candidates for union elections cannot 'invite or accept' support 'in money or kind' from any entity which 'is not provided for in Unison rules'. This article is produced without the authorisation of Hugo Pierre, in order to comply with these requirements.