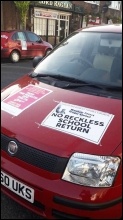 Organise a mass refusal to attend unsafe schools on Monday
NEU Executive announces emergency decision to call on members to exercise 'Section 44'
By Socialist Party members in education
Our schools and colleges are not safe. Full classrooms provide an environment where the new variant will quickly spread. No member of staff and no pupil should have to work in such dangerous conditions.
That's why, to protect their safety, and the safety of their wider school community, school union groups should boldly make clear this weekend that they are not prepared to return to work in schools until safety can be assured.
For months, the government has been ignoring growing evidence that school aged children have high levels of infection and that poorly ventilated, closely-packed schools have been an important factor in the spread of Covid-19.
Keeping schools fully open has nothing to do with keeping children safe. Instead it has put more lives in danger, more pressure on an overwhelmed NHS, more chaotic disruption in schools.
Before Christmas, even their own scientific advisers warned ministers that "accumulating evidence is consistent with increased transmission occurring amongst school children when schools are open". Yet the Department for Education still insisted on bullying councils like Greenwich into keeping their schools open. Now these bullies have to be faced down.
With the full opening of secondary schools delayed by a week, the immediate battleground is in primary, nursery and special schools. With the new, more contagious, variant of the virus spreading quickly amongst young people in particular, even this government has been forced to concede that primary schools in London and some other south east authorities do not open fully at the start of term.
But, as things stand, most school staff still face entering an unsafe workplace on Monday – and the virus doesn't respect geographical boundaries.
Insisting workers enter an unsafe workplace, and without risk assessments in place that address the new dangers from the new variant, is a breach of health and safety. That's why the National Education Union met in emergency session today (Saturday 2nd January) and agreed it will be calling on members in primary, nursery and special schools to exercise their rights under "Section 44" and that the union will support them in doing so, including through balloting for industrial action if necessary. Letters will be sent to all employers by the union.
Members will be advised to insist on a new risk assessment and that they are available to work in school to teach key worker and vulnerable children only or, otherwise, work from home to support remote learning.
This is a very significant step and one that now needs to be fully backed by the trade union movement. It should also be replicated by Unison, GMB, NASUWT, Unite and other school unions. It will hopefully receive a sympathetic response from most school leaders.
By failing to act earlier in this decisive manner, the NEU has left itself with a very short timescale to get this message across to its members and to give them confidence to act. Nevertheless, it is a stand that has to be taken given the serious dangers facing all of us.
That's why parents and trade unionists should:
Contact their local NEU branch to offer support
Publicise the NEU advice as widely as possible
Speak directly to school staff to encourage them to speak to their colleagues and exercise their rights not to enter a dangerous place of work