London's May elections: Tories and Labour's Khan both vying to slash public services
Working class need an anti-austerity alternative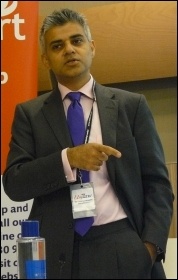 Sadiq Khan, London's Blairite mayor, photo Policy Exchange (Creative Commons) (Click to enlarge: opens in new window)
Helen Pattison, London Socialist Party secretary
London's population is heading for nine million and, partly because of its size, it is the most polluted city in the UK. An affordable, accessible, and green transport system is, therefore, a necessity for its inhabitants.
Since 2018, Transport for London (TfL) has mainly been funded though fares, and its entire government subsidy has been removed. Despite the recent eight-year period, when fares rose faster than wages, after Covid hit and people stayed home, TfL's income plummeted, sparking a financial crisis.
Since the Tories first announced plans to remove TfL's subsidy, trade unionists, transport campaigners, and socialists, have warned that funding TfL through fares alone would mean cuts to services and workers. The Socialist Party cautioned that a fight was needed to secure proper funding for transport in the city, including in City Hall.
Over the last few months there has been back-and-forth between right-wing Labour Mayor Sadiq Khan and the Tory government, each blaming the other for the financial situation facing TfL. But in reality, both are to blame for a transport system which is expensive, and in normal times, loaded to bursting point.
Investment has been on the basis of vanity projects and expensive outsourcing. Neither the current right-wing Labour-run Greater London Authority (GLA) nor the Tories offer the kind of integrated system that is needed to ensure a safe and green transport system.
Khan's recently commissioned Independent Review looks towards "three groups to provide additional funding: residents, consumers, and drivers." In short, they expect working-class Londoners and transport workers to pay for the financial crisis facing TfL. This must be rejected.
The review openly refuses to make big business pay – either through an employment levy or business rates increase – as it would be too big a burden on business.
Yet a huge council tax hike, new charges to drive into the greater London area, and a full-frontal attack on the pay and pensions of transport workers, including huge redundancies, and removing more of the already shrunken workforce from the network, is on the cards.
Reducing gate-line workers and leaving stations and platforms unstaffed, will make the transport system less accessible and more dangerous to passengers. The review even highlights how it will be older people, disabled people, mothers, pregnant and BAME people, who will be hit hardest by removing services. They are also proposing axing up to 150 bus routes in outer London, where some of London's poorest communities live.
Even Khan's review is compelled to admit that these cuts will force up to 250 million journeys off public transport and into private cars. And this is just the beginning. It also floats the idea of a 25% increase on journeys into the central Zone 1, and removing the cycle hire scheme, as well as river services.
Working-class alternative
This review shows that Khan poses a huge threat to transport workers' jobs and the system as a whole. Equally, the Tories introduced the current broken TfL funding model, just before Boris Johnson left the office of mayor in 2016. But the lack of a real anti-austerity alternative from Khan will leave space for even the likes of Shaun Bailey, the Tory candidate for mayor, to pose as pro-working class by opposing extra tax hikes.
Bailey has already shown how out of touch he is with ordinary people in London, by suggesting that homeless people could save £5,000 for a deposit on a house!
That's why we need a genuine anti-austerity political alternative to Khan. In 2016, the Socialist Party understood the huge desperation of Londoners to get rid of the Tories from the GLA. But we also warned that Khan was no 'Corbynista'. Instead, he would use his position to attack Corbyn and fail to stand up to the Tories to protect the living standards of working-class Londoners.
Covid impact
During the pandemic, the limits of Khan in relation to protecting transport workers' health and safety, has been clear. Despite a high Covid death toll among transport workers – 42 bus workers have died of the virus – he sided with bus companies for weeks instead of listening to the safety concerns of bus drivers and their trade unions. The companies wanted to carry on collecting fares and refused to close the front doors of the buses, which would have helped protect drivers' health.
Now, Khan has failed to stand up to the Tories on TfL funding, meaning transport workers will face more attacks.
In addition to the vital issue of funding the transport system are questions on housing shortages and costs, and widespread low pay. Just before the pandemic started it was reported that overcrowding was at a 40-year high: this social problem has helped spread Covid in the city.
One-in-five Londoners earn less than the London living wage of £10.85 an hour, and many are on zero-hour or similar exploitative work contracts. This has also meant that many workers during the pandemic have been unable to properly isolate and protect their and their fellow workers health, or have been forced to work in dangerous environments.
Khan's approach to the TfL funding crisis shows he will again fail to challenge the Tories on these other important issues, and it is working-class Londoners who will pay the price.
Currently, the approval ratings of Khan and the Tories have maintained a consistent gap, with Khan on a 20+ percentage point lead. But that can change if he continues to put forward that the working class must pay for the crisis.
Because the mayoral election in London are on the basis of a 'supplementary' voting system (ie candidates are ranked in preference), an anti-austerity candidate can send a message to Khan about the anger at his austerity policies while also being able to keep the Tories out.
An online meeting of the Trade Unionist and Socialist Coalition (TUSC) will bebe taking place on 20 January to discuss possibilities of a working class stand against Khan and the Tories.
For further information about TUSC go to tusc.org.uk