Fight for the right to protest
Fight for our future
Fight capitalism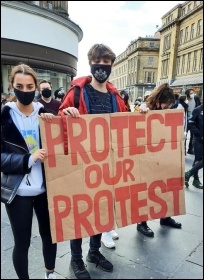 Demonstrating for the right to protest, Newcastle, April 2021, photo Elaine Brunskill (Click to enlarge: opens in new window)
Tom Green, Birmingham South West Socialist Party
The government has postponed the Police, Crime, Sentencing and Courts Bill until later in the year. But there is still an ongoing movement to completely kill this authoritarian legislation.
Waves of protests have been sweeping the country for weeks since the bill was introduced. It would net offenders up to ten years in prison for minor 'offences' related to protesting.
Since the Covid pandemic, the Tories have become embroiled in scandal after scandal, exposing further the true nature of capitalism. The Tories feel the need to quell criticism and prepare for any movements that threaten to expose and undermine their profit system.
The protests have been full of young workers and students. And people are planning to take to the streets against the bill again on 17 April.
We young people have taken much of the brunt of recent policies. Two-thirds of the people who have had jobs cut during the pandemic are under 25. Unemployment among black youth has reached the level it was when the Brixton Riots happened in 1981!
It follows that those who have been negatively impacted by the most exploitative capitalist policies would come out in numbers against the same government trying to limit their freedom to protest.
This includes students, angry about paying tuition fees to watch online lessons and rent for accommodation that many haven't used. That's why Socialist Students is holding a national day of action on 21 April.
Our bold agenda includes eliminating tuition fees and student debt, full rent rebates for the duration of the pandemic, and creating an education system which would function for all young people, outside the control of capitalist market forces. This should be part of a fight to replace the capitalist system – which curtails our right to protest, crushes our living standards, and denies us a future – with socialism.