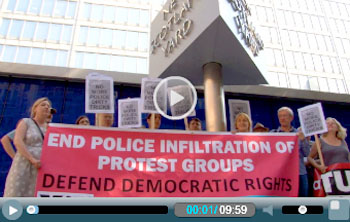 Protesting outside Scotland Yard against police spying , photo Socialist Party
Spycops inquiry – end political policing
The Undercover Policing Inquiry is set to resume between 21 April and 14 May. It is set to further expose police spying on left-wing political activists. This second round of hearings will cover the activity of the Special Demonstration Squad between 1973 and 1982.
The Socialist Party participates in the Campaign Opposing Police Surveillance (COPS) campaign. Several of our members are participants in the inquiry after being spied on in the past. COPS will protest outside the hearing on 26 April.
Protest outside SpyCops inquiry: Monday 26 April, 11am, Amba Hotel, Marble Arch, London W1H 7EH
NEU election success
Sean McCauley has been elected in a by-election to sit on the National Education Union's national executive from April to August. Sean's fighting programme, for a campaigning, socialist leadership that leads a national campaign on workload, pay and education funding, won him 1,012 votes to his opponent's 931.
Sean is one of the Socialist Party members standing in the main election to the NEC which is deciding the national leadership from September. That election runs until 29 April and it is essential that everyone who voted for Sean in the by-election votes again in the main election.
Vote for Sean 'number 1' if you are in district 8: Gloucestershire, Herefordshire, Oxfordshire, South Gloucestershire, Swindon, Warwickshire, Wiltshire and Worcestershire.
If you are in district 12, the South West, vote for Sheila Caffrey and Alex Moore.
In London's district 16 (Newham, Waltham Forest, Haringey, Croydon, Bromley, Bexley, Havering, Redbridge, Barking and Dagenham) vote 'number 1' for Louise Cuffaro.
Unionising the unorganised
Unite the Union and the DayMer community organisation in North London held the first public activity of a campaign aimed at organising Turkish and Kurdish speaking workers into a trade union.
The campaign is targeting catering, hospitality, retail and factory workers in particular, with a view to setting up a new branch of Unite. Key campaign aims include winning the London Living Wage, improved sick pay and safety at work.
Unite regional officer Onay Kasab said: "This crucially important campaign can be summed up by our central campaign slogan 'Organising the Unorganised'. This will be a hard, long-term campaign, dealing with what are likely to be some of the most anti-trade union employers. But we are determined. We are confident. We will organise!"
The National Shop Stewards Network and Socialist Party also attended the public event in Wood Green to offer full support to the campaign.