Co-ordinated further education strike action against measly pay offer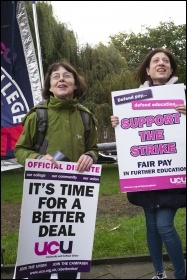 City and Islington picket line 5 October, photo Paul Mattsson (Click to enlarge: opens in new window)
Socialist Party members in UCU
College workers at ten University and College Union (UCU) branches initiated strike action as part of a coordinated fightback on pay on 28 September. Socialist Party members were out showing solidarity on the picket lines and engaging in discussion on the way forward for the disputes. We also spoke about how to tackle the wider problems facing workers in colleges, many of which relate to running colleges as if they were a business.
Everyone we spoke to was angry about the measly 1% pay offer – a real-term pay cut – especially as they were working longer hours and with a higher workload than ever before. At City and Islington College, workers told us: "We feel very strongly. It's not just about the pay, but the devaluing of our work, the workload and the restructures."
We spoke to Elena, Korina, Inci and Anne on the Enfield college picket line. They told us: "The working conditions have got worse. There's no time to prepare anything extra or new. We've got extra workload with no extra pay. Prices are rising faster than our pay. It's really stressful".
"We just want fair pay for the work we do. We just want to afford to live. I love my job and the students, but there's so much workload, so much we have to do outside of working hours."
"For me, workload is a big issue. The PCs, the whiteboards, nothing works properly. There's no time to do your job. One day there weren't enough chairs. I have to come in one-and a half hours earlier to get things done. The students are great, and there's a good team of staff here. We want to be happy in our job. We don't want to be stressed all the time."
The threat of strike action was enough to force managers back to the negotiating table at five of 15 colleges that voted to take action, with all offering higher rates of pay plus other pay-related concessions.
Workers we spoke to in Tottenham were confident that their action would also result in a better deal from management. However, they were willing to see the dispute through if it came to it, including taking action beyond the currently planned ten days.
The rise in national insurance, inflation and the fuel shortage was also a common talking point on the picket.
As one picketer said: "We know it's all connected, the petrol shortage, the low pay, the workload… it's the accumulation of wealth by the few that is affecting the mass of people and families are really struggling."
The strike continued from 5-7 October, and once again, Socialist Party members have been out on the pickets. The UCU has indicated that it will announce further dates if better offers are not forthcoming.
The Socialist Party calls for:
Full public funding to provide quality education to all; reverse the cuts and end privatisation and marketisation in colleges
A national contract for further education workers giving:
A pay rise for all further education workers of at least 10% (as voted for at UCU further education conference)
A maximum limit on work hours
An end to the college-by-college fight on pay: reinstate national, collective pay bargaining