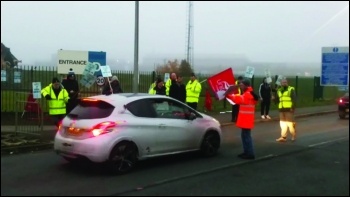 Scaffs pickets explaining to drivers the reason for strikes
Alistair Tice, Yorkshire Socialist Party
Visiting the Scunthorpe scaffolders' picket line, who are fighting for agreed trade union rates of pay, on 15 November it was immediately obvious that the strikers have upped the ante against their contractor Actavo at British Steel.
Pickets were stopping cars to hand out health and safety surveys, causing tailbacks onto the main dual carriageway. One driver didn't like this and drove recklessly, carving up another car and nearly hitting Unite pickets stood on the footpath. Jumping out of his car to remonstrate with the strikers, lo and behold, it was only the works' director of the whole British Steel site!
After an exchange of words, Mr Cunningham was forced to retreat back into his car and await the police. Of course, the police didn't do anything, but the incident only strengthened the strikers resolve with a quickly improvised chant of: "We're on the gate and you're going to be late!"
Unite the Union nationally has begun to get involved, union general secretary Sharon Graham is expected to visit the picket line soon, and union organisers went with strikers to visit other sites where Actavo have contracts to do banner drops as a warning if they don't pay up.
One of the strike committee told me: "It's week seven of the strike. Me and my fellow scaffolders know that people feel it's been a long time but to us it's flown by. Even in the cold weather, with us all sticking together, with music, fire pits and warm food, we have good spirits among brothers on the picket, it really strengthens our fight and solidarity.
"The rate of pay we are asking for is what our fellow scaffolders across all 'Blue Book' sites in the country get, including scaffs here at British Steel who work for another scaffold company. Actavo also pay the national-agreed rate on their other sites, so I find it hard to understand why Actavo are discriminating in regards to paying the same rate to all scaffolder employees who do the same job day in day out. All we are asking for is to be treated equally and to be paid equally. Solidarity brothers and sisters."