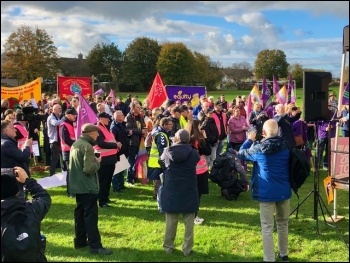 Clarks protest. Photo: Bristol SP
Stephen Bennett, Bristol North Socialist Party
Around 500 people gathered on the picket line of the Clarks distribution centre in Street, Somerset to show their support for the workers on an indefinite strike over the despicable 'fire-and-rehire' tactic being used by LionRock Capital, a situation that could see workers who have worked for Clarks for years losing £1.66 an hour, a 15% pay cut.
Around 20 different trade unions including the Bristol Trades Union Council and members of the Bristol Socialist Party attended what was a very successful march through the main shopping centre of Street, while the support shown by locals was immense, the march being applauded by most of the people out shopping on a Saturday afternoon.
The march finished with a few speeches from members of the picket line and South West Trades Union Congress with an amazing show of support from all who attended. It was clear to see that the entire town of Street is behind its workers in their fight to block this shameless attempt by LionRock to push their financial losses onto the working class. Best of luck in this fight comrades!