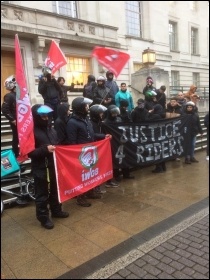 London couriers take action. Photo: Hackney SP
Striking couriers in the IWGB union drove on their mopeds and bicycles through the streets of Hackney to the council offices on 10 November. They were taking action because delivery apps are encouraging them to wait near restaurants, particularly McDonald's in Dalston north London, but fast food management are forcing them to park in car parks with no facilities and rain cover.
They also feel harassed by police and civil enforcement officers, and have been regularly fined £65 – which would barely make it worthwhile working. Rob Williams, chair of the National Shop Stewards Network and Socialist Party member, spoke at the rally to give solidarity.
He said: "During Covid, you showed that you were key workers but now you are ignored. You should be employed and paid as workers not super-exploited in the gig economy. Hackney Labour Council needs to get out of this town hall and speak to you and your union and agree to your demands."