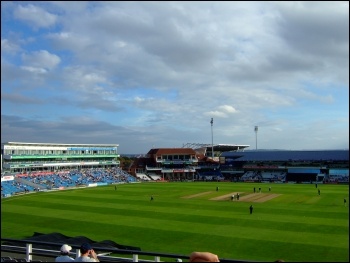 Headingley cricket ground, Leeds Photo: JohnSeb/CC
Gerry Wright, member of Yorkshire County Cricket Club and Socialist Party
The revelations of racism at one of the country's premier county cricket clubs were shocking and damning, and resonated beyond the confines of cricket. However, to those who have followed the sport over a lifetime like me, they were not surprising. Cricket's governance has it's roots in the days of the British Raj.
The influx of Asian workers into the mills and factories of the West Riding in the 1950s and 1960s led to a plethora of Asian heritage recreational cricketers. Some were accepted into the local cricket leagues, but a cordial welcome was generally lacking, and separate leagues were formed by the Asian community because of overt prejudice and discrimination.
The county club, far from seeing rich resources within their borders at a time when the all-conquering team of the 1960s was breaking up, chose to look the other way. County bosses dismissed the issue on the basis of a so-called Asian reluctance to integrate into the wider community and the fact that quality was lacking. Their bigotry was further boosted by an observation that few West Riding Asians were finding employment at other county clubs who probably had their own issues with race. Deprived of coaching at the top level and facilities, British Asian cricketers have been unable to fulfil their potential for years.
There were players of colour in the England team from the 1970s onwards, but players were often subject to taunts in the press when results went against England. They were accused of not exerting themselves fully because it was not their heritage country they were playing for. I don't remember white South Africans being subject to such questioning! Players like Devon Malcolm were patronised and verbally abused when they did make the breakthrough in to the test team.
Racism is endemic in capitalist society, and sport to varying degrees reflects this. Cricket, because of its imperialistic and colonial context, is particularly toxic. Yorkshire County Cricket Club is damned, not only by recent revelations, but by the wilful neglect of Asian cricketers for over sixty years.
Working-class youth wanting to play cricket have real difficulties getting opportunities to participate. Deindustrialisation decimated many working-class clubs. Schools that cater for non-fee payers provide limited curriculum opportunities given the dominance of national curricula, with emphasis on academic subjects to placate OFSTED and achieve an acceptable placing in the School League tables.
Many schools that became academies sold off playing fields that were previously the property of local authorities, while local authorities themselves have sold off recreational grounds to offset cuts in central government grants and funding.
It is not surprising that the England Test team is dominated by players from private schools, as indeed many county teams are. More than just words are needed to give all working-class kids, of all backgrounds, a chance to fulfil their potential on the cricket field.
Democratic control of cricket clubs is urgently needed so that they fully represent the communities they serve. Cricket administration requires root-and-branch reform to represent all those who wish to participate in playing and watching the game. Like many issues that have emerged of late, only a socialist society can provide a lasting solution.