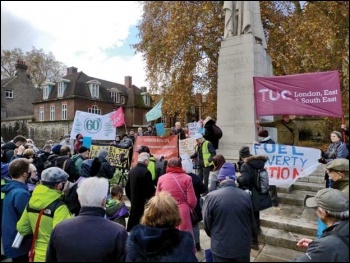 Pensioners at Parliament. Photo: James Ivens
Pensioners and trade unionists protested against winter fuel poverty outside parliament on Friday 26 November. There are 32,000 excess deaths between December and March each year in the UK – 9,700 of them due to living in cold homes, according to National Energy Action and E3G.
The National Pensioners Convention, leading the protest, called for the government to ban further energy price hikes. It also demanded an increased winter fuel allowance and home insulation programme.
The Socialist Party participated in support of these demands. We say: nationalise the energy companies, under democratic working-class control, to ensure affordable warm homes for all!