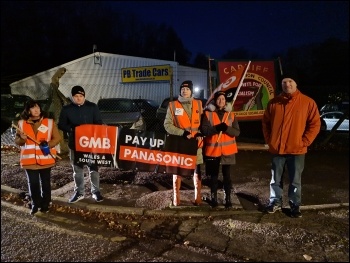 Panasonic picket 22 November, photo Dave Reid
Dave Reid, Socialist Party Wales
Panasonic workers at Pentwyn in Cardiff have won a significant victory against the multinational giant. The company has caved in and increased its pay offer from zero to 5.5% over two years, plus a £300 bonus. The fourth day of strike action has been suspended while the offer is put to the members.
This represents yet another victory in Wales by workers taking determined strike action to try and get a decent pay rise in the face of rising inflation. Stagecoach bus drivers in Gwent recently won a 10.5% pay rise, and Arriva drivers in North Wales have won £12 an hour.
Panasonic had originally offered a 1% rise – in effect a pay cut. But when this was rejected by the workforce the company withdrew even this miserly offer. GMB members began a series of four one-day strikes on 15 November. Clearly the strike was having a big effect on production, with reports of thousands of pounds worth of production lost or even wasted by agency workers sent across picket lines.
The success of the strike was even more significant because not all the workers took strike action. But those who came out on strike and stood on the picket lines showed incredible resolve and determination which, clearly, the company realised would not be broken, despite a culture of management bullying. The strikers included a number of east European workers.
While the 5.5% hardly keeps pace with the rate of inflation, it marks a big increase on the company's original offer and represents a spectacular victory for workers in Panasonic after years of plant closures, job losses and declining real pay.
They have turned the tide and have a real opportunity to strengthen union organisation throughout the plant.