Sheffield couriers escalate and spread action in pay fight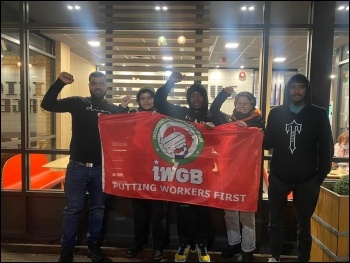 Couriers on strike in Sheffield. Photo: IWGB
Food delivery couriers working for Stuart Delivery (a subsidiary of DPD Group and a subcontractor of JustEat) are into their second week of indefinite strike action in Sheffield.
Picket lines of striking drivers (members of the IWGB union) and supporters have blocked six McDonald's, one of Just Eat's biggest clients, from 5pm to 10pm every night. Dozens of drivers are refusing to take orders, Just Eat services have been shut down several times, and drivers in nearby Chesterfield have now joined the strike. The IWGB say this is the biggest continuous food delivery app strike in UK history.
The drivers are striking because their pay has been slashed by up to 24% just weeks before Christmas as fuel prices and inflation are rising.
One of the striking drivers, says: "Everything has gone up in the UK, even the minimum living wage has gone up, gas and electricity has gone up, petrol and diesel have gone up. For Stuart and Just Eat to drop what they're paying us is not right at all. It's poverty pay already. With this new pay structure we won't be able to pay off our bills. It's heartbreaking."
The pay cut was implemented nationally (outside London) in October but some Sheffield drivers, already organising in the IWGB, protested at the management Zoom meeting, so the pay cut in Sheffield was delayed till 6 December, which is when the strike began.
As well as extending the strike in Sheffield, the drivers want to spread the action nationally. Last week, 20 courier drivers in Sunderland struck and marched against the pay cut without even being in the union. Contacts have been made in Blackpool, Manchester and Nottingham as well.
The IWGB, the delivery drivers union, are demanding a pay rise and paid waiting times after ten minutes.
Alistair Tice, Sheffield Socialist Party