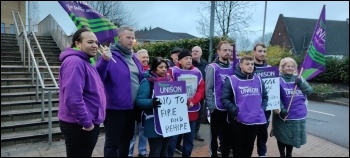 Strikers at Sandwell leisure , photo by N. Hart
Sandwell Leisure workers resist 'fire and rehire'
Sandwell Leisure Trust (SLT) workers, members of the Unison union, were back on strike at Portway and Oldbury Leisure centres on 14 December.
This was the fourth one-day strike since March 2021, when SLT 'fired and rehired' all 280 staff in in order to remove them from national pay, terms and conditions.
The trust is pressing ahead with its fire-and-rehire plans despite having built up £4 million reserves. And now they want to make days off due to Covid count towards workers' absences, potentially triggering disciplinary action!
The union is demanding that the Labour-run council intervenes to stop SLT's attacks on its workforce.
Meanwhile, workers are preparing to step up action alongside other council workers in the New Year for a living pay claim of 10%, and to keep their nationally set pay and conditions.
Nick Hart, Black Country Socialist Party