Fight attacks on abortion rights
FOLLOWING LAST November's Queen's speech, the Human Fertilisation and Embryology Bill is making its way through the House of Lords at present. The Bill itself does not address abortion but is being used by right-wing politicians to attack women's right to choose when and whether to have children.
Sarah Sachs-Eldridge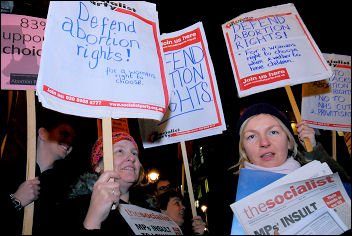 Picket of Tory MP Ann Widdecombe's anti-abortion meeting 6 February 2008, photo Paul Mattsson
Baroness Masham of Ilton tabled an amendment attacking abortion on grounds of foetal abnormality. The law currently allows for late abortion if tests suggest that the baby will be seriously disabled. After over an hour of debate, the amendment was defeated 22 votes to 89.
If passed into law, this amendment would have had a devastating impact for the small proportion of women who need to use this clause. During the debate, Baroness Masham said: "I can think of no greater affront to equal opportunities for those who are disabled than the denial of the right to life itself."
This argument is the height of hypocrisy. Despite the arguments of right-wingers, this amendment would in no way advance the rights of disabled people. And where are their concerns when special schools are being shut down across the country? And hospitals? And science departments in universities? And when the wages and jobs of public-sector workers, who work with disabled people, are being cut?
Ann Widdecombe, a prominent Tory anti-abortion campaigner, is known to oppose financial help from the state for older carers who have passed retirement age. Their hypocrisy knows no bounds!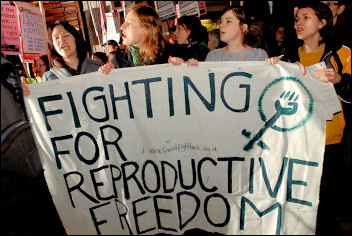 Picket of Tory MP Ann Widdecombe's anti-abortion meeting 6 February 2008, , photo Paul Mattsson
Despite the vote, this will not be the end of the issue. There will be more amendments as right-wing organisations and politicians continue to use the Bill to try to erode our rights. We cannot rely on the politicians to defend our rights. Attacks on public services, wages, democratic rights and more have been voted through thick and fast.
The trade union and student movement must mobilise in defence of a woman's right to an abortion, but also in defence of all our rights to decent public services, housing and a standard of living. A national demonstration is necessary to see off any further attempts to limit our rights; and to fight for improvements, such as making abortions on the NHS available to women in Northern Ireland.
The labour and student movements must play a role in countering reactionary ideas and in firmly supporting a woman's right to choose. These ideas and attacks must not go unanswered.
Get in touch if you would like a model motion for your trade union or student union branch or to find out more about our Socialist Women campaigns.