Birmingham council workers
Biggest strike for decades
On 5 February, Birmingham saw its biggest strike for decades. Tens of thousands of Birmingham council workers were on strike and thousands stood outside hundreds of schools, offices, leisure centres, bin depots and more, before gathering in a boisterous protest outside the Council House.
Dave Griffiths, West Midlands Socialist Party
The one-day strike was against a 'single status' agreement that was supposed to bring equal pay for women workers after years of underpaying them. But it has in fact led to thousands of workers facing a pay cut!
The council has also taken the opportunity to cut allowances, shift pay etc and demand extra work from thousands of other workers. The strike was against council attempts to impose this shabby plan.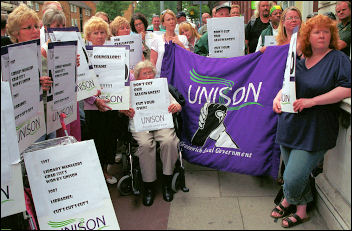 Single status has meant cuts for many. Photo Paul Mattsson
Years of underpayment are not to be made up by the council but instead by fellow workers! 'Robbing Peter to pay Paul'- equalising pay but at reduced levels!
The Tory/Liberal council claim only 14% (some 5,000 workers) will lose. But after other cuts it will be far more. And all this before Gordon Brown gets on with his below-inflation pay deals for the next three years.
As a striking bin worker said: "They expect us to take a pay cut, increase our work and cut overtime, it's ridiculous."
Other workers spoke of being demoralised – something in abundant evidence in Coventry council, where a similar deal was imposed on workers some years ago.
Bin workers are due to lose £10,000 a year! Just before the strike the council talked of a payment of around £8,000 to them in a late and desperate bid to undermine the strike. To no effect! They were there in numbers. Even if it was paid annually "I'd still be £45 a week worse off" said one. In fact the bid to split the workforce probably fuelled the anger of all council workers.
The rally was the biggest yet and shows the momentum is with the workforce. Speakers at the rally warned: "If the council think it's going to stop after today they are wrong". Workers are right to fight all the way and the action should continue and be expanded.
But many question the national trade unions' handling of this. "Why is each authority being left to fight this battle alone?" they ask. Indeed workers in the neighbouring authorities of Wolverhampton, Staffordshire, Dudley, Walsall and more face the same issue already or in months. All workers should be fighting together.
It is no accident that across the midlands, some of the biggest pay cuts from the single status process are in services like bins, street cleaning and cemeteries. Workers are right to see this as softening up and casualising the workforce in preparation for privatisation.
Local shop stewards and others have worked hard to resist the council, but it is not just the local employers doing the dirty work, ultimately it is the government that is responsible for refusing to pay up for equal pay. Workers deserve the full national backing of their unions to resist these attacks, not an attitude of ignoring them and hoping it goes through quietly. What sort of union sits back while national agreements are ripped up?
National action should be used to fight government and employers. Certainly action should be organised across the West Midlands as a warning to authorities in the region.
* Equal pay now
* No losers
* Step up the action