24 April
'We're striking against low pay'
Build for a one-day strike throughout the public sector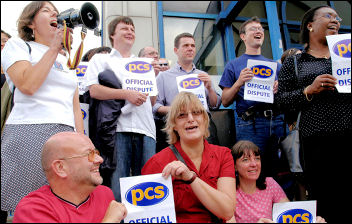 PCS workers on strike. Mark Serwotka, (top row, third from left) joins strikers, photo Paul Mattsson
On 24 April almost half a million public-sector workers will strike a blow against the government's policy of public-sector pay restraint.
Jane Aitchison, civil service union PCS, Department for Work and Pensions group president, personal capacity
PCS members from ten different government departments will stand shoulder-to-shoulder with teachers from the NUT and college lecturers from the UCU. The strike is designed to make the government think again on the issue of low pay and the way they are devaluing the public sector.
Many other workers from other parts of the public sector will be watching supportively knowing they too may need to mobilise soon.
DWP, the largest and most militant section of the civil service, will be forced to take the 21st day of strike action in less than four years. This will be alongside PCS members in DVLA, Department for Transport, Driving Standards Agency, Highways Agency, Home Office, Maritime and Coastguard Agency and the Land Registry.
Morale in DWP was so low it is difficult to believe that it could sink lower. In those four years 30,000 jobs have been cut, the service we are able to offer to the public has been cut right back and to cap it all we had a three-year below-inflation pay offer imposed.
DWP members know that they have got to stand up and stop the rot. You would think that after 21 days of national strikes DWP management would have worked out where to find the key to the door, so to speak. Low morale among members has been replaced by a simmering anger – this year's increase is set at 0% – obviously they are very angry and not about to get over it.
Who is Gordon Brown listening to?
Last year I represented PCS at the TUC and heard Gordon Brown talk about "no return to boom and bust" – well I've got to tell him many members are pretty near to bust now.
The government should be ashamed to be paying wages so close to its own minimum safeguards. With wages in DWP starting at 24p above the minimum wage, increasing numbers of members struggle to make ends meet.
Many have mounting debt problems and repossession, an increasing fear, has become a nightmare reality already for some members. My members cannot manage – because they are not paid enough.
Last month PCS organised an incredibly successful lobby of parliament with hundreds of MPs lobbied on these issues. Brendan Barber, the general secretary of the TUC was there and said: "What harm would there be on inflation if we paid benefit workers an inflation-rate pay rise?"
We have been arguing for months that low-paid workers are not the cause of inflation but the victims of it. When even the TUC general secretary is questioning the government's line it must be obvious that they need to change it.
Support the public sector
Up and down the country, there will be marches and rallies on 24 April – and not just in the big cities either. Come along and show your support for a strong, valued public sector.
Together we can win.