Link to this page: https://www.socialistparty.org.uk/issue/387/4376
From The Socialist newspaper, 7 April 2005
Bosses low pay racket exposed
Socialist Party action uncovers massive wage fraud
IRISH SOCIALIST Party councillor Mick Murphy and Socialist Party TD (MP) Joe Higgins have exposed a massive low-pay racket carried out by a multinational company.
(Right, Joe Higgins Socialist Party TD carried on the shoulders of the Gama workers. Pictures courtesy http://www.briangreene.com)
In doing so, they have lifted the lid on how the capitalist system ruthlessly exploits workers in order to maximise profits. And they have shown the importance of having socialist representatives who will fight for working class people.
Gama, a construction company with major government and local authority contracts in Ireland, has for years been working its migrant workforce excessive hours - up to 12 hours a day, seven days a week [the legal maximum is 48-hours]. They have been paying them as little as 2.20 euros (£1.50) an hour, instead of the 8 euros an hour claimed to have been paid by Gama.

Speaking in the Dail (Irish parliament) on 8 February, Joe Higgins questioned the Taoiseach (prime minister) Bertie Ahern about the plight of these Turkish workers. He accused Gama of stealing millions through underpaying these migrant workers - "What we have is master fraud, grand larceny of workers' wages," said Joe.
Joe addresses the Gama workers
Faced with investigation, Gama claimed it had deposited the rest of the workers' wages in accounts in a Dutch-based bank called Finansbank.
The workers knew nothing about these accounts, so last Thursday (31 March) Joe and Mick took four former employees of Gama to Amsterdam, walked into Finansbank and, speaking to stunned bank officials, demanded the workers access to their accounts.
One worker, Metin Kaplan, had 24,000 euros in his account! Yet he knew nothing about the existence of this account. It is estimated that as much as 40 million euros in workers' money is deposited in Finansbank.
Part of the Gama workers demonstration
Afterwards, Joe commented: "We have uncovered some of the money owed but the question of thousands of hours of unpaid labour and other issues still remain.
"This case exposes the ruthless exploitation of workers with this company using the shadiest of operations."
---
>
Gama workers protest strike
ON MONDAY 4 April at 10am around 300 workers from Gama sites in Dublin walked-off in an unofficial protest at the company's below minimum-wage payments and wage fraud.
They were joined by Socialist Party TD (MP) Joe Higgins, and together they marched to Leinster House (home of the Dail Eireann - Irish parliament) and on to Liberty Hall, the HQ of SIPTU, the country's largest trade union. They were assisted by the Socialist Party who had produced placards in Turkish.
The workers' strike action shows that they had overcome the climate of fear and intimidation as migrant workers living on site and were demanding their rights.
---
>
How socialists made a difference
Interview with Joe Higgins Socialist Party TD (MP), Southern Ireland
IMMEDIATELY AFTER Joe Higgins and Mick Murphy returned from Amsterdam, Joe spoke to the socialist to explain how Gama had ripped-off its workforce.

"Gama began working in the country in 2000. It has contracts in very prestigious projects e.g. power stations, road bypasses, social housing, etc.
Gama workers' celebrations begin
There had been suspicions over the years that Gama was paying very low wages and working its workers very hard. But the company rejected these allegations and they hadn't been pursued.
Last autumn when three carpenters had a dispute with Gama in Dublin, local Socialist Party councillor Mick Murphy went and spoke to them. They related to him disturbing accounts of very low wages. Mick then began to try to unearth the truth. This was very difficult because Gama had created a wall of silence - having the migrant Turkish workers live on site - and they spoke little English.
However, Mick got a leaflet in Turkish distributed with contact phone numbers. Eventually the truth began to come out.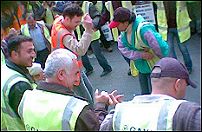 It transpires that before they came to Ireland from Turkey they were told they would get food and accommodation and 2.20 euro an hour. Gama worked them from 80-84 hours a week in summer [the European working time directive states a maximum 48-hour week], paying 3.30 euro an hour overtime and 4.40 euro on Sundays. A typical worker would have a wage of maybe 1,000 euros after a month of solid work.
Investigation
When the department of trade investigation started, Gama 'coached' the workers on what to say to the inspectors. ie that they had been paid the trade union rate, that they worked 48 hours only, and that they have another account at Finansbank, Holland, with money paid in.
This was the first the workers knew about this bank. Myself and Mick decided to take four former employees and turn up unannounced to the bank on Thursday (31 March) in Amsterdam. Sure enough these workers had accounts in their names! They had amounts of money ranging from 24,000 euro down to 4,500 euro.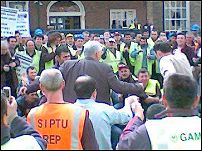 It seems that the workers had actually signed documents opening the accounts but the documentation was in English.
Joe joins in
It was given to them to sign before they left Turkey. They lacked confidence to ask what it was they were signing for fear of not being employed. No copies of this contract were provided to the workers.
We reckon there are somewhere between 1,000-2,000 workers that have left Gama and gone back to Turkey at various times who have accounts at this bank in Holland but are not aware of it. As much as 30-40 million euro of the workers' money could be held in that account.
Questions
The balance between the slave-rate paid and what a trade union rate would be for 48-hours work - was obviously a cover for the company if there was an investigation.
But both the company and the bank have many questions still to answer. These workers' accounts were sitting there untouched, no worker had enquired about them. So Finansbank must have known what was going on, so we will be asking the Dutch central bank and government to have this situation investigated.
The next unresolved issue is notifying all the workers that have money there. The bank has conceded that the workers can do what they wish with their accounts. We wait to see if this happens.
There is still the issue of the massive hours worked of unpaid labour which would be of two to three times of what is in that bank. We will pursue a number of actions in this regard - including legal action."
Regular updates on the Gama scandal are on the Irish Socialist Party's website www.socialistparty.net
---
>
Show solidarity with GAMA workers. Send protests to: Managing Director Hakan Karaalioglu, Gama Construction Ireland Ltd, Northwood Park, Santry, Dublin D9. Fax: 00 35 31 1862 9698.
Please send copies to: Michael Martin, Minister for Enterprise Trade and Employment, 23 Kildare Street, Dublin 2. Fax: 00 353 1 631 2815. email: micheal_martin@entemp.ie
Please email solidarity messages to the GAMA workers (via Joe Higgins TD) to:
joe.higgins@oireachtas.irlgov.ie
---
>

Election pages
Why not click here to join the Socialist Party, or click here to donate to the Socialist Party.
---
In The Socialist 7 April 2005:

Bosses low pay racket exposed

Rich are getting richer...

General election - main parties ignore real issues

A socialist alternative for women

BNP - not a 'radical alternative' to New Labour

Militant turned socialism into reality

Zimbabwe election: "The greatest fraud of 2005"

Join the G8 protests

Pakistan - a powder keg ready to explode

Stop the BBC jobs slaughter

Big business sharks circle Rover jobs

Pensions: No concessions by 'negotiation'
---
Home | The Socialist 7 April 2005 | Join the Socialist Party
---