ISR takes to the streets!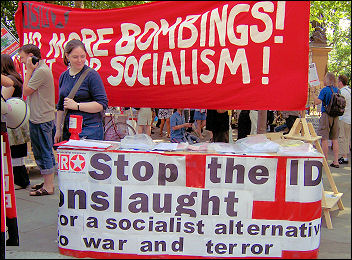 ISR on the Central London demonstration against the
Israeli IDF onslaught
Swansea
Swansea ISR members held a protest on 22 July against the brutal
Israeli bombardment of Lebanon. In just over an hour we managed to speak
to over 50 young people by going round where they hang out with the
petition and leaflets.
We had a great response and virtually everyone signed and took a
leaflet. Young people are anti-war even when they didn't know much about
what was going on (however most had seen the news and were horrified).
They agreed with us that this war was not in the interests of workers
and youth on both the Lebanese and Israeli sides. Many almost
instinctively responded to our call for workers' unity against Israeli
aggression (backed by US imperialism) and the corrupt elites in
countries like Lebanon.
Sarah Mayo
---
Bristol
ISR members from around the South West came to Bristol on 29 July to
campaign against low pay and the unequal minimum wage for young people.
We had a lot of interest in our 'wall of shame' which listed low-paying
employers and the wages they were paying.
One young apprentice (exempt from the minimum wage) had earned as
little as £2.50 an hour whilst others received similarly poor wages,
mostly in retail and catering. A 22-year-old who worked in a shoe shop
chain, getting paid just £4.74, well below the adult minimum wage.
However, even this is more than she would have been entitled to on
the derisory minimum wage for under 22 year-olds. This is a shop that
sells shoes at over £100 a pair but refuses to pay a living wage.
After we finished the stall we distributed ISR Know Your Rights at
Work cards to young workers in local shops.
In McDonald's one ISR member had to distract the manager whilst
others gave the cards to the workers. Most young workers we spoke to
were unhappy with their wages but said they would be hesitant to
challenge their bosses for fear of being sacked. This shows how
exploited young people are.
We now hope to develop the campaign by approaching other workplaces
about the need for collective action to win better pay and conditions.
Hannah Seaman and Tom Baldwin
---
Huddersfield
Wednesday lunchtime shoppers were hit by an unfamiliar sight in
Huddersfield last week, as hordes of people stopped in the sun not to
buy, but to sign and talk.
They came over to the Huddersfield ISR low pay stall to discuss their
experiences as under-paid workers, sign our petition calling for a
fairer minimum wage and examine and discuss our large, bright 'Shame
your Boss' board.
Workers of all ages, from students in part-time retail jobs to
parents and lecturers in full-time work, agreed with our demands and
many enthused about our campaign, one man exclaiming "I want to join
this thing!" while pointing at the low pay leaflet he'd been given.
The stall was even big enough to get a reaction from a local shop
manager, who was adamant that young people get paid what they deserve.
She soon left; humbled.
It was the first push in Huddersfield towards a public meeting on 29
August, which we aim to use to start the first ISR branch in the town,
as well as discuss in depth the issues we bring up at these stalls.
Ian Slattery
---
Leeds
Leeds ISR held its first 'Low Pay, No Way' day of action on 22 July.
For most members this was their first public campaigning and despite
some nervousness, was a success.
We set up an excellent stall, much to the irritation of managers
standing in a nearby O2 shop with no customers, with ISR material and
GMB and Amicus leaflets on low pay and working conditions.
Unfortunately the heavens opened for the first time in weeks, but the
rain didn't dampen our enthusiasm and we decided to carry on, with some
members handing out leaflets and others with clipboards asking the
public their opinion on the minimum wage, whether they would sign a
petition and giving them information on their rights at work and about
the relevant trade unions for their work sector.
As a result there were hundreds of ISR leaflets handed out and a
number of youth joined or gave their email details for us to follow up
later, and around a dozen people joined Amicus.
Leigh Wilks