Link to this page: https://www.socialistparty.org.uk/issue/363/5966
From The Socialist newspaper, 25 September 2004
New Labour - It's Big 'Business As Usual'
DELEGATES ARRIVE at the Labour Party conference on 26 September amid media speculation about splits and differences at the top.
ALISTAIR TICE looks at the state of the Labour Party after seven years of the Blair government's attacks on the working class.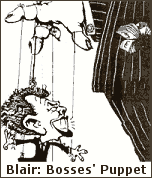 BEFORE HIS Barbados and Berlusconi holidays, Blair said that the Labour Party was now 'free thinking', and released from the "ideological bullying" of the 1970s and 1980s. Presumably he meant free from socialism.
On his return, he insisted that "the government that I lead, I would say, is the most ideologically united government that I can imagine for a long time." He's right. Look around the cabinet table. There's not a single minister who's not signed up to the New Labour project.
So how come there seems such a big split between Tony Blair and Gordon Brown? As The Independent correctly said: "The most important divide in British politics is not between New and Old Labour, but between those who all regarded themselves as New in 1997."
Of course, it's partly a question of personalities and ambitions. In the Granita deal (named after the Islington restaurant they dined in) Brown seemingly agreed to stand aside for Tony Blair to become Labour leader in 1994 after John Smith's death. In return Blair agreed to pursue Brown's policy agenda and, it is widely believed, to step down in Brown's favour at some future date.
No Opposition
Brown, who in his last Budget speech called himself the most successful Chancellor for the last 200 years (so no small ego there then), undoubtedly wants to be prime minister. But Blair has appointed Alan Milburn as election supremo and Milburn represents Blairism after Blair. This threatens Brown's ambitions. Hence the recent Whitehall village squabbles.
But there's more to the divisions than just personal rivalries. Millions of workers and young people are opposed to this Labour government yet there's no serious parliamentary opposition. In any case, the Tories and Lib-Dems basically have the same policies as New Labour.
So even though there's no ideological differences, class pressures can find an expression through splits in the ruling party's apparatus. Because opposition to New Labour has largely been personalised against Blair, Brown has been championed by many, especially trade union leaders and 'rebel' MPs, as an alternative leader. Consequently he is portrayed as more 'old Labour' and union-friendly.
Nothing could be further from the truth. Brown has been the architect of all Labour's economic policies including tax cuts for big business, the Private Finance Initiatives, deregulation and flexible labour markets. According to Derek Scott, the former economics adviser to No. 10, Blair doesn't understand economics anyhow!
However unlike Blair and Milburn, Brown wants to keep Treasury control of the privatisation agenda (eg foundation hospitals) and has not sought open confrontation with the trade unions. The only differences are over the pace of 'reform', not the agenda itself.
But it suits Brown's ambitions to be perceived as more union-friendly, Eurosceptic and even Old Labour. And despite the damage done by infighting, it probably suits Blair that his only rival for the last ten years has been a Blairite!
It certainly suits big business to know that their government will be in a safe pair of hands. Workers however need a new party.
---
>
A Party Of 'Them Not Us'
JOHN MAJOR'S Tory government went down mired in sleaze and brown envelopes. New Labour promised to be clean and transparent. But their pro-capitalist policies have inevitably increased the wealth gap in Britain and led to an incestuous relationship between Labour and big business.

The Institute for Fiscal Studies reports that the income gap between rich and poor was greater in 2002-03 than it was in 1997 when Labour came to power, or even in 1990 after a decade of Thatcher!
An Institute for Public Policy Research paper says that over the last decade average earnings for employees have increased by 45%, but for the top executives of the FTSE 100 companies the rise is six times as fast (288%).
Not surprising then that as donations to the Labour Party from trade unions have been cut, donations from the rich and wealthy have rocketed. Last year donations nearly doubled to £9.1 million including £2.5 million from Lord Sainsbury, the trade and industry minister, and another £1 million from a retired businessman.
Biotechnology entrepreneur Paul Drayson gave £100,000 while successfully bidding for a lucrative government vaccine contract and then another £500,000 within six weeks of being made a life peer!
Through this close relationship with business, Labour politicians enjoy the spoils of office. More than a third of the 93 ex-ministers who resigned or were sacked since May 1997 are enjoying nice little earners.
Take George Robertson for example, Lord Robertson of Port Ellen, a former Defence secretary then NATO secretary-general, who swapped the war room for the boardroom (including directorships with defence contractors) and a six-figure income.
Or ex-Health secretary Alan Milburn who while spending more time with his family managed to squeeze in a £30,000 consultancy with Bridgepoint Capital, a private equity company making profits in the private healthcare sector that New Labour is encouraging in the NHS. Simon Stevens, a health policy adviser of Milburn's, now intends to become the Europe president of United Health, a $28 billion American company which plans to compete for NHS business.
If all this isn't bad enough, Tony Blair wants to make it even easier for former ministers and civil servants to get their noses in the trough. He's appointed a former Thatcherite senior civil servant Sir Patrick Brown, now a company chairman, to review business rules so they don't have to wait to take up lucrative jobs in industry due to inside knowledge of government decisions.
Labour truly is a party of big business, for big business and by big business.
---
>
Time For A New Workers' Party
"ON CURRENT projections we will have no members by 2018." This stark warning comes from Renewal, an influential quarterly Labour journal which has long advocated the modernisers' cause. The official party membership figure is now only 208,000 but if members who have lapsed for at least six months are excluded the real figure is just 190,000.
This is the lowest for 70 years - since Ramsay McDonald split the party in the 1930s! Membership has more than halved since Blair became prime minister in 1997 and is now 75,000 below the figure he inherited when he won the leadership ten years ago.
Renewal (for which Blair and five serving ministers sit on the editorial advisory board) warns further: "The party hierarchy just does not realise what a large hole it resides in.... What is at stake is...the viability of the party. Recent results and events disturbingly echo the fall of the Tories. First you lose your active members, then your councillor base, finally after a moment of Epiphany (like Black Wednesday) the fall amongst the wider public is frighteningly far and fast."
These points are echoed by Peter Kilfoyle, who as Neil Kinnock's witch-finder general closed down the left-wing Liverpool Labour Party in the 1980s, but now finds himself a Blair critic and Labour 'rebel'. He says "Labour members should gaze around the room at your next meeting. Consider yourself lucky if the branch or constituency still meets... The party seems on its last legs in many areas."
Privatisation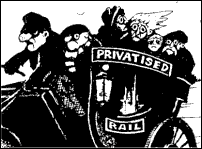 New Labour's Tory policies of privatisation, attacks on the trade unions, tuition fees, foundation hospitals and the war on Iraq have driven tens of thousands out of the party, and repelled all but political careerists from joining.
"What is the point?" asked a Guardian editorial: "With annual conference a stitch-up.... And the membership base treated as little more than powerless campaign fodder, why join in the first place?"
This is precisely why the trade unions' 'Reclaim the Labour party' strategy of recruiting 50 union activists to take over every constituency party will not work - why would they join? In fact trade union members in their droves are opting-out of even paying the political levy let alone joining the party.
In an interview in The Times, 30 July, Kevin Curran, general secretary of the GMB union, said: "Just imagine if a disaffected, disengaged trade union movement decided to identify independent candidates ... to concentrate on 300 seats... the difference we could make in national politics would be enormous."
He has no intention of doing this himself at present - clinging to the belief that the Labour Party can be "reclaimed". But he is right - it would have a huge impact and union members will be pushing for this to happen in GMB and other unions.
If the Left union leaders took the initiative to found a new workers' party, with a socialist programme, then 50 activists in 600 constituencies would be inspired to join.
Those 30,000 trade unionists would lay the basis for a mass party which could attract tens of thousands more from the anti-war, anti-capitalist and environmental movements. Such a socialist alternative really would be 'awkward' for Blair.
---
>
Not Just Mid-Term Blues
ALTHOUGH IT is still likely that they will win the next general election, Labour's electoral support has been chronically undermined. In the 2001 general election Labour lost two million votes compared with 1997.
On 10 June this year, in the European elections Labour got its lowest share of the poll in a national contest (22.6%) since 1918! In local elections on the same day, Labour suffered a net loss of 479 councillors and lost control of Newcastle council for the first time ever.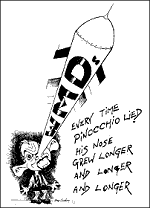 The Independent on Sunday (12 September) reported on a private e-mail sent by Labour MP Nick Palmer. He bluntly admitted that he is likely to be kicked out by voters at the next general election and replaced by a Tory, although his Broxtowe constituency, near Nottingham, is 69th in the list of the Labour seats that the Tories have the best hope of capturing.
If a seat such as Broxtowe, which Palmer held with a 5,873 majority were lost, Labour's Commons' majority would disappear overnight.
Based on local canvass returns, Palmer speaks of "a hesitant former Labour vote" and "a lot of Labour voters are not sure that they want to vote."
This is not just mid-term blues. Labour has lost support even though there is no serious parliamentary opposition.
Whilst some former Labour voters turned to smaller parties in the European elections (UKIP and BNP to the right, the Greens and Respect to the left), in the absence yet of a new mass workers' party, millions have simply stopped voting. The historically low 59% turn-out in the last general election could be even lower in the next.
Labour has lost support amongst key sections of their traditional electorate. Mainly due to the war on Iraq, support amongst British Muslims has halved from 75% at the last general election to 38% now. In 1997, 53% of young working-class women voted Labour, but now a mere 20% say that they are certain to vote at all at the next election.
Disillusionment
Whilst much of this disillusionment is due to Blair's personal role, especially over Iraq (a clear majority now believe both that he lied over the war and that it was unjustified), 66% believe that the Labour Party itself is less in touch with "people like me" than it was 10 years ago.
Large sections of working-class people who had always voted Labour have now voted for other parties or stopped voting. This break-up in traditional support marks a big psychological change in how Labour is viewed by working-class people - no longer as 'our' party but as 'them', part of the political establishment.
Peter Kilfoyle warns: "Talk to your friends, neighbours, workmates. Ask them for an opinion on Labour, and do not be astonished by the vituperation in some of their replies. We are truly for many people akin to the Tories in the depths of their sleaze period."
This breech with Labour by sections of the working class has created an opportunity for a new workers' party to gain significant electoral support.
But there are also dangers - if too much time is wasted by trying to reclaim the unclaimable, then the far right populist UKIP or neo-fascist BNP could steal some of that support.
---
>
Warwick Deal - All Smoke And Mirrors
IN HIS speech at the Trade Union Congress, Tony Blair said "I come here to praise Warwick, not to bury it." This is hardly surprising. After kicking the trade unions for seven years, New Labour bought their support for the general election very cheaply.
Warwick University is where in July trade union leaders struck a deal with government ministers to work for a Labour victory in return for policy commitments for a third term. These 'concessions', originally an 83-point list, now down to 56, include many that are only a promise to review issues.
However the trade union leaders have made much of the promises to exclude eight bank holidays from the four weeks' annual paid leave guaranteed to all workers and to end the two-tier workforce in public services, and the hope that employers will be forced to contribute to pensions again.
Whilst obviously these are welcome, they will merely stop some of the worst abuses by private employers. In return the union leaders have effectively agreed to the continuation of privatisation, low pay and a declining state pension.
For example, unions used to oppose Private Finance Initiatives, then they called for a moratorium, then a review, and now they've agree that key stakeholders be consulted in monitoring PFIs!
No wonder Labour ministers could reassure business leaders that major "red lines" had not been crossed.
In return, the Labour Party is expecting £20 million from the unions over the next two years, not least to pay the general election bills.
'Awkward squad'
The "awkward squad" leaders of the Big Four unions have heralded Warwick as a "radical agenda". They are desperate to sell this deal to their members in order to deliver their funding and votes to Labour. It exposes the limits of their radicalism and awkwardness.
Transport union leader Tony Woodley said after Blair's TUC speech "There is now clear blue water between us and the incompetent Conservatives." That's the problem, it's blue water, not red! This is not a programme to "Reclaim Labour". Blair can live with it.
This cosying up between the tops of New Labour and the unions masks the battle lines between this capitalist government and the working class. This class divide was exposed by the bitterness of ministers' attacks on the firefighters' strike (which led to the Fire Brigades Union's historic decision to disaffiliate from the Labour Party) and the savagery of the 100,000 civil service job cuts announced by Chancellor Brown.
A temporary truce suits both sides. The pressure from rank and file trade unionists has led to the FBU disaffiliation, the rail union RMT's expulsion, and other unions cutting or threatening to cut funding. This has severely affected Labour's finances. Despite big donations from rich backers, Labour still needs trade union money.
On the other hand, the union leaders who, under pressure from below have been forced to sound awkward and left, have no intention of leaving Labour. But they are desperate to show their members that they still have influence and to encourage support for the mistaken idea that the Labour party can be reclaimed. So, for now, all roads lead to Warwick!
However, this 'smoke and mirrors' deal will be blown apart in Labour's third term, maybe even before, by the major working-class struggles inevitable in resistance to New Labour's neo-liberal policies.
The fact that, at the TUC fringe meeting, general secretaries of 12 national trade unions were queuing up to voice support for the PCS union in its fight against job cuts, shows how they could be forced to shift under pressure.
The need for a new workers' party has been firmly placed on the agenda by the RMT and FBU splitting from Labour. Workers' struggles will force the issue in other unions and ask "awkward" questions of the trade union leaders. Like "who's side are you on?"
Why not click here to join the Socialist Party, or click here to donate to the Socialist Party.
---
In The Socialist 25 September 2004:

Strike Back At Jobs Massacre

Anger Grows At Job Cuts

Uniting To Fight New Labour's Cuts

Fight The Bosses' Closure Plan at Jaguar

Workers Say -'We Won't Pay The Price'

Wembley Workers - A Victory For The Trade Unions

New Labour - It's Big 'Business As Usual'
---
International socialist news and analysis

Iraq - A Brutal War, Whatever The Label

ESF - A Socialist World Is Possible

Biggest Public Sector Strike In South Africa's History
---
Socialist Party news and analysis

Don't Trust Government To Stop BNP

Young People Demand Proper Facilities

Lurid Headlines Hide The Facts of Fathers4Justice

Prostitution: The Debate Continues
---
Home | The Socialist 25 September 2004 | Join the Socialist Party
---