Argos strike
Basildon distribution plant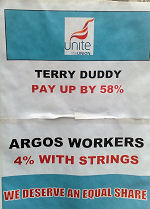 Argos workers in the Unite union on a 24-hour strike , photo Leicester Socialist Party
On 17 April Argos workers in the Unite union started a 24-hour strike against an insulting pay offer of 3.8%, and the employer's attempt to move them from weekly to monthly pay without any compensation. Argos has said that they will only agree to a 4.1% rise (still well below inflation) if the workers accept a reduction in paid sick leave.
Eleanor Donne visited the picket line at the distribution plant at Basildon in Essex: "There was an excellent show of strength on the picket lines at all three entrances to the plant and the mood was positive. The pickets told me that support from workers in the distribution plant has been solid, with union membership increasing leading up to the strike. There is a lot of anger because Argos made huge profits last year and awarded their directors massive pay increases – one got a 58% rise, yet they 'can't afford' to give a decent pay rise to their low-paid staff.
"When I first approached the depot I noticed a number of people wearing suits under their high-visibility vests. It turned out that these were not exceptionally smartly dressed pickets but the site managers keeping an eye on the picket line in case of any 'intimidation'!
"Managers tried to prevent a union being built at the Basildon plant, but with membership of Unite now at 80% they have been forced to recognise it.
"Further strike action is planned for 24 July and from 31 July to 4 August if the employers don't improve their offer."
---
Further strike dates are:
Basildon – 1.15pm 31 July – 6am 4 August
Bridgwater – 2.30pm 30 July – 2.30pm 3 August
Heywood – 3.30pm 31 July – 3.30pm 4 August
Magna Park – 7.00am 1 August – 7.00am 5 August (warehouse)
Magna Park – 3.00am 1 August – 3.00am 5 August (drivers)
---
Magna Park, Lutterworth, Leicestershire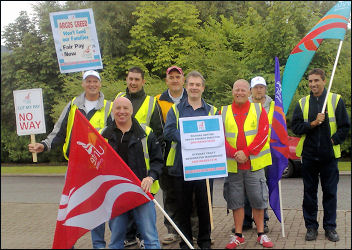 Argos workers in the Unite union on a 24-hour strike , photo Leicester Socialist Party
Steve Score went to the picket line at Magna Park in Lutterworth, Leicestershire to give support from the Socialist Party.
One picket said: "The company have offered us 3.8%, with another 0.2% if we agree to cuts in our sickness entitlements… The retail price index has gone up, but the things that you have no choice to buy like food are going up even faster. I have to pay out far more money now to travel to work."
Another picket said "Argos made a hell of a lot of money last year and the directors seem to get the cream of the pot and we get – not a lot!"
Nigel Rudding, the Unite convenor said: "Today we have overwhelming support from permanent staff. However, Argos do use agency workers, and they have been threatened that they will lose their jobs if they refuse to cross the picket line.
"We all along have said we are prepared to talk. But Argos were saying this was their final offer. I am not prepared to sell off people's terms and conditions.
"We were told we would go from weekly to monthly pay with no compensation – this was without discussion, and has clouded the issues.
"Everyone has had one-to-one interviews to 'see how they can help get you into work on the strike days', where they have effectively asked workers how they voted in the ballot.
"Some of the things they were saying have been outrageous, for example telling the workforce that stewards would be paid to be on strike – outright lies!"
---
Heywood, Manchester
Over four hundred workers on strike, five trucks turned around and not one unionised driver gone in by 8am – solid action shut down Argos' depot in Heywood, Greater Manchester. Loud cheers greeted every wagon that turned away, while chants of "What do we want? Decent pay!" echoed down the road.
Hugh Caffrey, Manchester Socialist Party
Strikers were ordered by Argos to stand at the gates of Heywood Distribution Park rather than the gates of the Argos unit, as company policy does not allow picketing on their land!
That badly backfired, with one hundred pickets with flags and placards being loudly supported by hundreds of workers passing by on the main road. The depot was virtually shut by the union which organises the vast majority of staff, and where there are only a small handful of non-union temps and agency workers. On the picket, I spoke to Brian Bowing, Unite regional industrial organiser:
"Argos has increased its profits by 16% to £433 million, while they are offering our members a derisory 4%, well less than the rate of inflation. In addition Argos want to reduce sick pay, move to monthly pay without any compensation, and the chief executive got a 58% pay increase!
"As far as we are concerned, Argos are well able to pay our members against the backdrop of massive increases in the price of oil and food. Our members are determined to see this through until they get the decent pay increase from Argos that they so justly deserve."