Make the fat cats pay for their crisis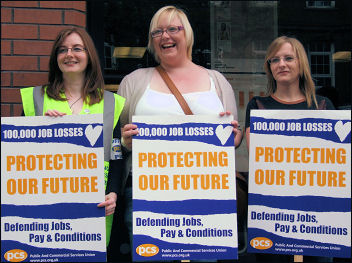 Major struggles inevitable – Trade union action can protect our future. PCS workers on struike in Belfast. Photo Peter Hadden
"The economic times we are facing are arguably the worst they've been in 60 years", blurted out chancellor Alistair Darling in an unguarded moment on his summer holiday. "And I think it's going to be more profound and long-lasting than people thought", he added.
Dave Reid
Darling's words sent a chill through millions of working people as we leave the summer that 'never was' and prepare for a long winter. It is working class people who will bear the brunt of the recession that many economists believe has already begun.
It's not just the chancellor. Bad news has spilled out from the City for over a week. The pound reflected the dire state of the British economy by tumbling to a new low. The normally cautious Nationwide building society said house prices are falling at £150 a day and the CBI, the bosses' union, reported the biggest annual decline in shopping since records began in 1983.
A member of the Bank of England monetary policy committee has predicted two million people will be unemployed by Christmas. Over a thousand workers at Northern Rock are amongst the first to lose their jobs in this wave of redundancies, because the multi-billion pound rescue of the bank by the government does not include saving their jobs.
But some people don't have to worry about a cold winter. Energy multinational Centrica's shares rose in value when it announced its latest price increase for British Gas customers. Having blighted Christmas for these customers, Christmas came early for Centrica's big shareholders a couple of days later, when it posted a profit of £992 million in six months. Meanwhile Shell oil recorded a profit of £4 billion in just three months – that's £2 million an hour!
So while the rest of us tighten our belts and count our pennies, the super wealthy are doing very well. On the day that it was announced that pay increases are falling behind the rate of inflation, it was reported that in central London in July, houses priced at over £10 million rose in price by 1%, while the average house price in the same area went down. Many working people cannot afford to buy any house, but the super wealthy are buying more expensive homes than ever before.
In his March budget speech, Darling said: "Britain is better placed than other economies to withstand the slowdown in the global economy". This is not true. First Margaret Thatcher and the Tories, and then New Labour, encouraged the decline of manufacturing industry and moved the economy onto one based on finance and services, lubricated by a flood of debt. This appeared to work for a period, but as The Socialist warned, would come a cropper in a financial crisis.
Now the mega rich who got us into this mess want working class people to get them out of it – we are expected to pay the price. But faced with this agenda, anger is growing and major struggles are inevitable. This anger and action will be accompanied by people drawing political conclusions, including the vital conclusion that a new workers' party needs to be built.
---
The 'Them and Us' recession
Them:
37% pay increase for FTSE 100 chief executives last year
£992 million profit for Centrica in first six months of this year
£26.9 billion pumped into Northern Rock
Us:
3.5% average annual pay increases April -June
35% increase in prices to Centrica's British Gas customers
2000 jobs to go at Northern Rock