Link to this page: https://www.socialistparty.org.uk/issue/578/7232
From The Socialist newspaper, 5 May 2009
Visteon workers show: Action gets results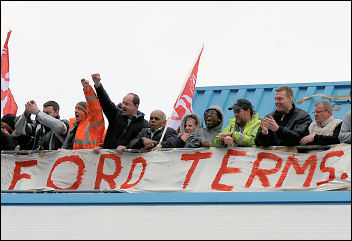 Visteon workers at Enfield during occupation of plant, photo Paul Mattsson
Sacked workers at the three closed Visteon UK plants in Enfield (London), Basildon (Essex), and Belfast (Northern Ireland) have won a momentous victory, a substantial financial package from their bosses.
They will end their pickets and occupations as soon as the money is in the bank.
Frank Jepson, Unite union convenor of Visteon Basildon, spoke to The Socialist giving the workers' reaction and explaining what happened during the course of their battle.
"The most important thing we have achieved is bringing Visteon and Ford to their knees, forcing them into a u-turn.
We've also achieved everyone standing together - Visteon workers and workers around the country, all stood together. I've only been convenor since 31 January.
The other guys gave me the confidence to do what I've done. Their trust in me and their willingness to make a stand has led to what we've achieved.
We've got a responsibility to carry on from this point. We need to try and hold together as a group, to support other people in the position we were in, to help make changes in order to protect other people from being exploited by capitalist corporations.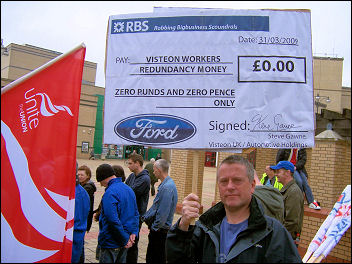 Basildon sacked Visteon car workers demonstrate, photo Greg Maughan
I don't want to stand still, I want to continue on the path of change, we need to continue stepping forward. Our victory shows that if you're determined to make a stand, you can beat the big companies. 600 workers beat Ford and Visteon. That's massive, a real David and Goliath.
I was totally confident we would get to this point, against all the odds, because of the determination and resolve, the refusal to stop no matter how many times they tried to demoralise us.
Our union leaders wouldn't have done this without feeling the pressure from us. We need unity in the ranks. This should give the leadership the spring, the push to fight other battles.
I'm standing as a No2EU - Yes to Democracy candidate in the European elections in June because of the lack of protection for employees by the government.
The anti-trade union laws are still in place despite the Labour government. We need change and I'm now in a position to do something about that."
Why not click here to join the Socialist Party, or click here to donate to the Socialist Party.
---
In The Socialist 5 May 2009:

Visteon workers show: Action gets results

Visteon UK struggle: the story of what happened

Visteon: Editorial comment
---
Defend victimised trade unionist

Rob Williams sacked by brutal bosses

Editorial: Decisive action needed against victimisations

Defend victimised trade unionist

Defending a shop steward, in spite of the anti-union laws

National Shop Stewards Network national conference
---
No 2 EU - Yes to Democracy

How can the BNP really be defeated?

Support for No2EU at Usdaw conference
---
Socialist Party news and analysis

Swine flu: The real issues behind the headlines
---
May Day

Workers look for alternative to bankrupt capitalism

Widespread protests in Pakistan

Thousands demonstrate in Hong Kong

Bigger May Day demos in Sweden this year

CWI Germany calls for a one-day strike
---
International socialist news and analysis

ANC returned to power in election landslide
---
Socialist Party campaigns

Save Lewisham Bridge Defend education

Youth fight for jobs: Launch conference

Youth fight for jobs website

Fight to save higher education

Save linguistics at Sussex!

Keep fighting for further education funding
---
Home | The Socialist 5 May 2009 | Join the Socialist Party
---