Socialism 2009: a weekend to inspire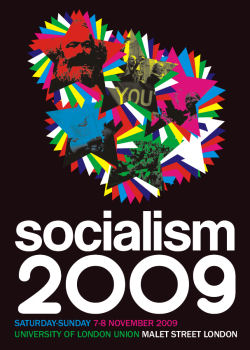 Socialism 2009, on Saturday 7 and Sunday 8 November, is shaping up to be another excellent weekend of discussion and debate. If you have been to previous Socialism events then you will know how good it can be. If you have never been then this is an ideal opportunity to discuss socialist ideas and the fightback against the effects of capitalist crisis with over 1,000 likeminded people.
Tom Baldwin
The highlight of the event will be the Rally for Socialism on Saturday evening. Confirmed speakers already include Bob Crow, general secretary of the Railway, Maritime and Transport workers union (RMT), who is a leading figure in the attempts to set up a trade union based electoral challenge to New Labour and the Tory Party; recently elected Irish Socialist Party Member of the European Parliament (MEP) Joe Higgins and Prison Officers' Association general secretary Brian Caton.
This will be an inspirational event and a reflection of all the important struggles that have developed this year, many of which involved Socialist Party members playing a leading role.
The sessions organised throughout the weekend can also give you an experience you will not get from any other meeting. There is a chance to discuss a whole range of subjects from the fall of the Berlin wall to the current capitalist crisis, from ending the occupation of Afghanistan to fighting the racist BNP.
With trade unionists, young people and campaigners attending there will be something for all readers of The Socialist at Socialism 2009. If you can come for the weekend, just for one day or even just for the rally then buy your ticket now.
Cheap accommodation and crèche places are available and transport may be organised from your area – contact us to find out more. There will also be a party after the Saturday rally which will be a chance to let your hair down with bands and a few beers.
Encourage friends, family and workmates who might have an interest in any of the sessions to buy their tickets and join you there. The only disappointment will be that Socialism only happens once a year.
With everything that has happened this year from demonstrations against the attack on Gaza to the occupation of Vestas on the Isle of Wight, Socialism 2009 can reflect these and be the best Socialism weekend yet. Make sure that you are there.
See www.socialism2009.net for more info and to buy tickets online