Students and workers Unite:
Fight university cuts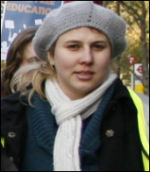 Claire Laker Mansfield, photo by Alex Ivanov
Since last autumn, when the vice chancellor of Sussex University announced a savage programme of job losses and cuts, we have been organising protests through our 'Stop the Cuts' campaign (StC).
Claire Laker Mansfield, Sussex Socialist Students
From porters to professors, every campus worker at Sussex University will be affected by cuts. The anger is palpable. The main talking point on campus is the "cuts" and what can be done to fight them.
Hundreds of jobs across every department are threatened. A third of the lecturers on my life sciences course face losing their jobs. Every basic service for students is under attack, from student advisers, to the cafés and bars on campus.
StC banners are everywhere. Hundreds of students have turned up to our protests and staff have been friendly and supportive. The StC campaign has politicised students who were not previously active. Not just student union officers, but course reps have been involved in organising and coordinating action.
Recently the successful Brighton bin workers' strike showed the power of workers when they get organised. It was inspiring to hear that a record-breaking ballot turnout of the Leeds UCU lecturers' trade union got a majority for strike action. UCU and Unite union members are due to ballot here.
Sussex has a radical reputation going back to 1968. Its students have a history of fighting management's attacks. Five years ago Socialist Students and other activists saved the chemistry department and won a 24-hour library through mass protests and occupations.
If we can stop the cuts here, students across the country will be inspired. As Socialist Students activists in StC we have called for a united mass campaign involving all staff and students, organised by all campus trade unions, the students union and StC. We have also linked up with students fighting back at Brighton University.
Socialist Students have played a leading role in the protests and occupations. We think this action should be escalated into a one day walkout strike of all students and staff on campus.
The scale of these cuts, the threat of higher fees and the prospect of widespread unemployment when we graduate mean we must build a mass movement of young people and workers to fight for our future.
I am standing as a socialist activist for the position of education officer at Sussex students union because I believe the union, with a fighting leadership, can play an important role in our battle to defend our right to a decent education.
Breaking news: Sussex occupation grows after mass demonstration
Over 200 students have stormed Bramber House reinforcing the continuing occupation organised by Stop the Cuts. Claire Laker Mansfield, along with other StC activists, called a demonstration in solidarity with the hundred students already in occupation.
Socialist Students activist and occupier Sarah Wrack addressed the crowd: "We have had no sleep or access to toilets. We have occupied this room and we will stay to make management listen. They will face occupations and demonstrations every day until they stop the cuts."
Peter Cecil from UCU gave support to the student protest. Claire and other speakers made the call for more students to occupy. As students rushed in through a side exit watching staff could be seen cheering students on.